This article is a work in progress.

Zombified Fungus Thrower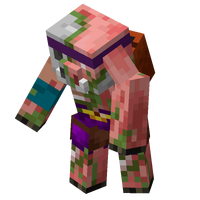 | | |
| --- | --- |
| Behavior | Hostile |
| Natural equipment | |
The Zombified Fungus Thrower is a new hostile mob found in the new Minecraft Dungeons DLC: Flames of the Nether that act as the zombified variant of the fungus thrower.
Spawning
[
]
Appearance
[
]
Zombified fungus throwers are a zombified variant of the Fungus Thrower that throws blue fungi projectiles at players. They possess the same blue armband, purple headband, and leather bag containing the blue fungi, with the only exception that they are zombified and that the leather bag has a small rip running alongside it.
Behavior
[
]
Zombified Fungus Throwers are identical to their non-zombified counterparts, able to throw two fungi that explode, leaving behind a poisoning cloud, and then stay a distance, then throw again, except they are slower and deal slightly more damage (Unconfirmed).
Sounds
[
]
History
[
]
Gallery
[
]