This article is a work in progress.
A zombie is a common undead hostile mob that appears in most levels in Minecraft Dungeons. They have several variants with scaling stats, including an armored version.
Appearance
[
]
The appearance of a zombie in Minecraft Dungeons is different from the base game. They have a different shade of green and they look more polished.
Spawning
[
]
Zombies also spawn when night falls, regardless of location, when at least one hero dies in multiplayer.
Behavior
[
]
Zombies slowly approach the hero once seen, then slash the hero with its dagger or sword. They can also be summoned by a necromancer or mob spawner. They also have a chance of being enchanted.
Zombies and its other variants sometimes "sleep" when idle.
Health
[
]
The zombie has 55 HP in the code. On Default I, all mobs have 9.6% health and 12% damage of what is set in the code. Zombies have nine times more health when enchanted.
| Power | Min health |
| --- | --- |
| 1 | 5 |
| 4 | 10 |
| 10 | 15 |
| 16 | 22 |
| 22 | 33 |
| 27 | 47 |
| 33 | 66 |
| 39 | 86 |
| 45 | 112 |
| 51 | 145 |
| 56 | 196 |
| 62 | 268 |
| 68 | 361 |
| 74 | 460 |
| 80 | 586 |
| 86 | 745 |
| 91 | 1004 |
| 97 | 1349 |
Sounds
[
]
Grim guardian
[
]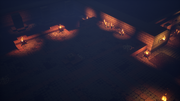 The grim guardian is the ancient variant of the zombie encountered during Ancient Hunts with the minimum offering of the following runes:
The ancient resides within a creepy crypt-themed arena and possesses, at minimum, the following enchantments:
Six enchanted necromancers act as the ancient's minions, possessing the following enchantments:
Upon defeating the grim guardian, a gilded variant of the following items drop as a reward:
History
[
]
Gallery
[
]
References
[
]