Minecraft

Dungeons:

Squid Coast

This article is a work in progress.
Squid Coast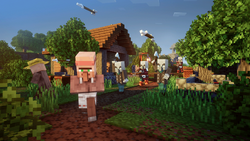 | | | |
| --- | --- | --- |
| " | Since this is the first level, we wanted to show what the effects are on a peaceful area and show the player what could happen to the world unless they do something. | " |
The Squid Coast is the first location in Minecraft Dungeons. It is the tutorial area of the game, introducing the player to the mechanics of Minecraft Dungeons. The difficulty is fixed at default I.
| | | |
| --- | --- | --- |
| " | A Village Under Attack – The village is under attack by the Arch-Illager's evil minions. Someone needs to save the Villagers before it is too late! | " |
| | — In-game description | |
| | | |
| --- | --- | --- |
| " | The village is burning. No doubt, this is the work of the evil Arch-Illager and his minions. They sweep across the land like a ravenous scourge, subjugating or destroying all in their path. This is a time for heroes like yourself. Make haste. The Villagers have need of you. | " |
| | — Opening Cinematic | |
Squid Coast, once a thriving town, is now burning thanks to the evil Arch-Illager and his minions. The Illagers have left Squid Coast in ruins, leaving buildings to be burned. The villagers have fled their homes, leaving possessions behind, waiting for heroes to save them. Heroes must make haste and fight their way through paths to save the Villagers.
| | | |
| --- | --- | --- |
| " | You were too late to rescue the Villagers, but don't fret. They're still out there somewhere, waiting for a hero to find them. | " |
| | — Victory | |
Accessing
[
edit
]
Loading a new character for the first time will send the player to Squid Coast.
After completing or skipping the tutorial, Squid Coast's mission marker () will be visible from the mission selection map when alone and set to Default difficulty. The marker will not be viable during online multiplayer with other players present, or when the difficulty is set to Adventure or Apocalypse.
Description
[
edit
]
[more information needed]
Upon defeating the Arch-Illager for the first time, an Obsidian chest is accessible from a windmill building found when turning left turn from the skeleton bridge.[verify]
This is the only full mission where the entire map layout is constant with no procedural or randomised generation.
The area at the end of Squid Coast becomes the Camp after the mission is completed or skipped.
Gallery
[
edit
]