This article is a work in progress.
Please help in the expansion or creation of this article by
expanding or improving
it. The
talk page
may contain suggestions.
Note:
Add the mission objectives.
Soggy Cave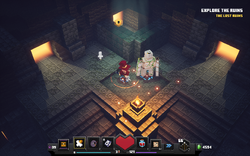 The Soggy Cave is a secret location in Minecraft Dungeons. It can be unlocked by finding it in Soggy Swamp.
Appearance
[
]
The Soggy Cave is a small cave located under the Soggy Swamp consisting of an outdoor area along with a small indoor area that has five doors and three rooms. Two of the three rooms have arena battles and a puzzle and lead to the two other doors. The final room contains an Obsidian Chest. It is a ruin under the Soggy Swamp.
Story
[
]
| | | |
| --- | --- | --- |
| " | THE LOST RUINS – There are plenty of treasures hidden in the swamp's caves. Claim them before the Arch-Illager can! | " |
| | — In-game story | |
The mysterious cave is full of doorways, each of which leads to a different area of the swamp. The doorways need to be entered in the correct order to visit each area because they are all connected by a confusing series of gateways. In some areas, the hero needs to complete arena battles before progressing, while others pose button puzzles to solve before gaining valuable rewards.
Objectives
[
]
Puzzles
[
]
The redstone combination puzzle in the level has 4 or 2 buttons, and the goal is to transmit the redstone line from the left across the 5 blocks attached to pistons to the right. Doing so unlocks the rest of the level. And you can easily solve it using The Minecraft Dungeons Puzzle Solver.
Unlocking
[
]
Here is a step-by-step guide to unlock the soggy cave secret level. Step: 1 Go to Soggy Swamp and explore every block of the map until you find the entrance to the cave. Step: 2 After entering the secret area explore until you find the entrance to the secondary level. Step: 3 Search for a beacon somewhere in the area. After activating the beacon a small ambush will summon, Upon defeating the ambush the Soggy Cave scroll will appear. Step: 4 You can now leave or finish the level. The next time you open the world map the Soggy Cave mission will be unlocked!
Mobs and entities
[
]
Native
[
]
Gallery
[
]
References
[
]