Minecraft

Dungeons:

Orb of Dominance

This article is a work in progress.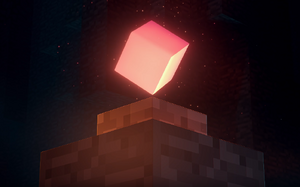 "

As he wanders through deep forests and up craggy mountains, he stumbles upon a dark cavern—with a sinister secret waiting inside. Archie discovers an object which whispers to him promises of power: the Orb of Dominance. With it, Archie realizes he can wield incredible magic and reshape a world that turned its back on him. All he needs to do is exactly what it tells him.

After all, it's called the Orb of Dominance for a reason, right? But is it named for the way Archie uses it—or is it using him?

"
— Minecraft Dungeons: The Rise of the Arch-Illager synopsis
The Orb of Dominance is a sentient object in Minecraft Dungeons which gives the Arch-Illager his power.

Spoiler warning!
This section contains detailed information about Minecraft Dungeons that may spoil your enjoyment of it. Read at your own risk!
The Orb appears to be able to put its victims in a trance-like state. After that, it manipulates them with the promise of power at the price of complete obedience.
Its first confirmed victim is Archie (the future Arch-Illager), who ended up leading the Illagers and other monsters to war against the Villagers and other enemies.
At the Obsidian Pinnacle, after the Arch-Illager's health is reduced to 0, it transforms into the Heart of Ender. After its defeat, it shatters, releasing Archie of its control, who celebrates its destruction with the players.
However, the Orb was able to retain its power and survive, albeit in small fragments. One of these made its way to a jungle, where it created the Jungle Abomination and other monstrous creatures.
Another went to a lively island, where it corrupted a local wraith, covering the island in a Creeping Winter.
Another one also landed on top of a mountain, corrupting a Squall Golem and later transformed into the Tempest Golem, causing the events of Howling Peaks.
Confirmed Victims
[
edit
]
Gallery
[
edit
]
One of the shards from the Orb of Dominance that landed in a Jungle, causing the events of Jungle Awakens.

Another Orb shard that landed on a lively island, causing the Creeping Winter.

Another Orb shard that landed on top of a mountain, creating the Howling Peaks.