This article is a work in progress.
The mission select table, also known internally as the map table in the game files, is where heroes can select a mission by using the map can be found in the north part of the camp located next to the Village Merchant, Blacksmith and Gift Wrapper. It can also be accessed by pressing the "Map" button (Default M/D-pad Down) while inside the camp. It opens up when you hover your cursor over it. It first appears once you complete Squid Coast and is vital for progressing throughout the rest of the game's story. The map accessible in Minecraft Dungeons is an interface used to travel to all the locations. shows which missions have been completed or have not been attempted. By clicking on a mission, heroes can view the level of difficulty, weapon drops, and artifacts that may be obtained.
Usage
The map has three different sections: the Mainland section, the Island Realms section, and the Other Dimensions section. The Mainland section has a total of 17 accessible locations, the Island Realms section has a total of 13 accessible locations, and the Other Dimensions section has a total of 8 accessible locations. The Mainland section can be accessed by all players (excluding The Stronghold which is unocked by purchasing the echoing void DLC), whereas the Island Realms (ecept the Gauntlet of Gales which is free for all players) and Other Dimensions sections can be viewed, but require players to purchase DLC packs in order to access their locations, with the exception of the Ancient Hunts button.
Locations
Locations can be travelled to from the map once heroes have reached or returned to the Camp. They do not appear on the map until they are unlocked. Due to the nature of how the missions are unlocked, it is entirely possible to skip missions to complete the main story. There are a maximum of 45 (not including Camp or Squid Coast) playable locations at any given time if all Secret Missions and Daily Trials are unlocked and all DLCs purchased. Each location contains over 500 mobs (except for Squid Coast, which has less than 100 mobs)
There are three main things that can be found in a location:Consumables, Emeralds, and equipment such as Armor, Artifacts, and Weapons.
Mainland
The following main missions and secret missions can be found in the Mainland:
Echoing Void
See Echoing Void for further details. It contains this mission in the Mainland: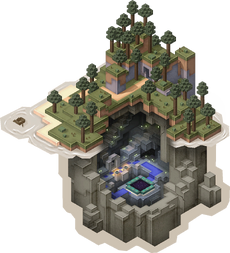 Island Realms
Other Dimensions
Ancient Hunts
Ancient Hunts can be accessed by clicking the Ancient hunt button with an Enderman face in the bottom-left corner of the Other Dimensions map or by clicking on the Nether portal located underneath the camp in a cave area.
Unused
Some unused locations can be found within the game files. Information about these locations is scant.
Removed
These locations may have been available in the game or the files at one point, but removed in a later update.
Sounds
History
Minecraft Dungeons
Dungeons Beta
The

Creeper Woods

,

Creepy Crypt

and

Pumpkin Pastures

are now accessible.
1.0.5.0
All Mainland locations are now accessible (except for the Stronghold}.
1.3.2.0
All Jungle Awakens missions are now accessible.
The

Lower Temple

is now accessible.
1.4.3.0
All Creeping Winter missions are now accessible.
1.5.0.0
Changed

Dingy Jungle

's and

Frosted Fjord

's unlock predecessor from

Obsidian Pinnacle

to

Squid Coast

1.7.2.0
All Howling Peaks missions are now accessible.
1.8.0.0
All Flames of the Nether missions are now accessible.
All Ancient Hunt missions are now accessible.
Defined

Pumpkin Pastures

,

Soggy Swamp

,

Redstone Mines

,

Fiery Forge

,

Desert Temple

,

Obsidian Pinnacle

,

???

,

Overgrown Temple

,

Frosted Fjord

,

Lone Fortress

, and

Gale Sanctum

explicitly as Boss Missions ()
Changed

Arch Haven

&

Soggy Cave

scrolls to always appear in their respective predecessor locations. However, the Arch Haven scroll does not appear in this new location due to a bug.
1.8.6.0
The

Arch Haven

scroll now always appears in its predecessor location.
1.9.1.0
All Hidden Depths missions are now accessible.
1.10.1.0
All Echoing Void missions are now accessible.
The

Gauntlet of Gales

is now accessible.
Trivia
Gallery
<gallery> T_MapTable.png|The texture of the mission select map table. T_MapTable2.png|The second texture of the mission select map table. MCDMainlandMap.png|The Mainland section of the map. FlamesOfTheNetherMap.png|The Other Dimensions section of the map. JungleAwakensIsland.png|Map of Jungle Awakens. CreepingWinterIsland.png|Map of Creeping Winter. HowlingPeaksIsland.png|Map of Howling Peaks. HiddenDepthsMap.png|Map of Hidden Depths. </gallery
References