Minecraft Dungeons Arcade

This article is a work in progress.
Minecraft Dungeons Arcade
| | |
| --- | --- |
| Author(s) | |
| Platform(s) | |
| Written in | N/A |
| Latest version | N/A |
| Release date | Q2/Q3 2021 |
| Rating(s) | N/A |
| Size | N/A |
| License | N/A |
| Source available | N/A |
Minecraft Dungeons Arcade is an arcade variant of Minecraft Dungeons announced on March 5th, 2021.[1][2] It is being developed by Mojang Studios in conjunction with Play Mechanix and it is slated to get a release in Q2/Q3 2021.[3]
Gameplay
[
edit
]
Like Minecraft Dungeons, this game supports up to four players and features various weapons, armors, skins, and mobs.[4] This game is similar to Minecraft Dungeons, in that players explore various locations and defeat various hostile mobs, but the game uses a side-on perspective instead of an isometric perspective as in the main game. The player will also be able to use physical collectible cards obtained after completing a game to select their gear as well as a pet and a skin. There appears to be some exclusive mobs such as the Obsidian Monstrosity, the Mage, and multiple armored variants of various undead mobs, like armored variants of the Jungle Zombie and the Frozen Zombie.
Appearance
[
edit
]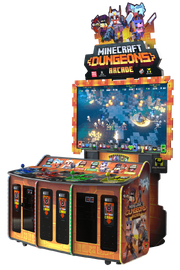 The game has a big flat screen outlined with what looks like Fire or lava. Right below that is the hinge that displays 5 cards in front of a orange background with the Play Mechanix logo on the right. The top of the cabinet has the logo for Minecraft Dungeons Arcade with four Minecraft Dungeons characters above it. The console has four control panels (up to 4 players can play at once) displaying characters right above each one. Each panel is colored indicating the player, Player 1 is blue, Player 2 is red, Player 3 is green, and Player 4 is yellow. Below the console is where the cards are ejected from the system - you may scan these cards after each round to play as a desired character, to equip a desired item or to receive a desired pet.
Additions
[
edit
]
The following is included within the arcade:
Achievements
[
edit
]
Added

Includes
Artifacts
[
edit
]
Added

Includes
Consumables
[
edit
]
Added

Includes
Effects
[
edit
]
Added

Includes
Enchantments
[
edit
]
Added

Includes
Added
Includes
Locations
[
edit
]
Added

Includes
Added
Includes
Added

Includes
History
[
edit
]
Gallery
[
edit
]
References
[
edit
]
Help
Developers
Game customization
Editions

Java
Bedrock

| | |
| --- | --- |
| Merged | |
| Ports to consoles | |
| Discontinued | |

Other
Discontinued

Games
Films
Books
Other media
Events
Official merchandise
Miscellaneous