This article is a work in progress.
Mace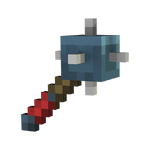 | | | |
| --- | --- | --- |
| " | The Mace is a brutal tool of war and what it lacks in finesse; it makes up for in power. | " |
| | — In-game description | |
A mace is a melee weapon in Minecraft Dungeons. Its unique variants are the Sun's Grace and the Flail. This weapon is used by the Arch-Illager's royal guards, as well as by the guardian vexes spawned from a Vexing Chant.
Appearance
[
]
This section of the article is empty.
Obtaining
[
]
Locations
Listed difficulties are considered to be the minimum difficulty the item is obtainable on unless stated otherwise.
Other
Ancient mobs
Usage
[
]
Maces possess above average power, low speed, and low range. They have a combo consisting of two side swings and an overhead slam. The first two hits deal the weapon's minimum damage, while the overhead slam deals the weapon's maximum damage.
Enchantments
[
]
Abilities
[
]
Stats
[
]
| Power | Damage |
| --- | --- |
| 1 | 14-19 |
| 10 | 23-32 |
| 20 | 37-52 |
| 30 | 59-82 |
| 40 | 92-128 |
| 50 | 142-196 |
| 60 | 216-299 |
| 70 | 327-453 |
| 80 | 494-684 |
| 90 | 745-1031 |
| 100 | 1121-1552 |
| 108 | 1553-2150 |
Sounds
[
]
History
[
]
Gallery
[
]
References
[
]