This article is a work in progress.
| | | |
| --- | --- | --- |
| " | Iron Golems have always protected the Villagers of the Overworld. Their numbers are dwindling as a result of the Arch Illager's war. | " |
| | — In-game description | |
The Golem Kit is an artifact in Minecraft Dungeons that summons an Iron Golem when used, similar to the Tasty Bone and Wonderful Wheat.
Obtaining
[
]
Locations:
[
]
Other:
[
]
Usage
[
]
When summoned, an Iron Golem will follow the hero until hostile mobs are in its range, at which point it will walk over to the target and attack it, dealing heavy damage.
Abilities
[
]
X summon damage
30 seconds cooldown
Iron Golem
[
]
Iron Golem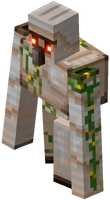 Behavior

Passive/Neutral (Heroes & Passive mobs)
Hostile (Enemies & Passive mobs targeted by a Hunting Bow and its variants)
Hostile (as a powerful mob)
An Iron Golem is a large mob found in Minecraft Dungeons. They are the biggest and strongest summoned mob in the game.
Spawning
[
]
Behavior
[
]
An iron golem can be summoned when using a Golem Kit. They can cause significant damage by swinging their arms, and they withstand significant damage. An iron golem has two types of attacks:
Basic Attack
Strong Attack
Sounds
[
]

This page would benefit from the addition of more sounds.
Please remove this notice once you've added suitable sounds to the article.
The specific instructions are: the sound of the iron golem's attacks.
History
[
]
Trivia
[
]
Unlike in the base game, iron golems have their own idle sounds, which sound like faint breathing.
Unlike the base-game iron golem, iron golems in Minecraft Dungeons are hostile toward creepers. They can also be hostile toward passive mobs that have been attacked with a Hunting Bow or its unique variants.
The iron golem uses the same attack animations as the enderman.
The iron golem has glowing eyes, unlike in the base game.
Issues
[
]
Issues relating to "Golem Kit" are maintained on the bug tracker. Report issues there.
Gallery
[
]
See also
[
]
References
[
]
↑ Some blacksmiths see the design influence of Iron Golems in this property-shifting armor.