This article is a work in progress.
Please help in the expansion or creation of this article by
expanding or improving
it. The
talk page
may contain suggestions.
Note:
Add the sounds of the iron golem's attacks.
Add the health of the iron golem.
| | | |
| --- | --- | --- |
| " | Iron Golems have always protected the Villagers of the Overworld. Their numbers are dwindling as a result of the Arch Illager's war. | " |
| | — In-game description | |
The golem kit is an artifact that can be found within the various missions of Minecraft Dungeons.
Appearance
[
]
The appearance of a golem kit adapted from the structure built within the original game that summons an iron golem.
Obtaining
[
]
Missions
Merchants
Usage
[
]
When summoned, an iron golem follows the hero until hostile mobs are in its range, at which point it walks to the target and proceeds to attack it, dealing heavy damage.
Abilities
[
]
X summon damage
30 seconds cooldown
Iron golem
[
]
Iron Golem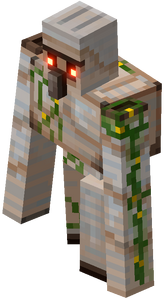 Behavior

Passive (heroes & passive mobs)
Hostile (enemies & passive mobs targeted by a hunting bow and its variants)
An iron golem is a large golem that can be found within Minecraft Dungeons. They are the biggest and strongest summonable mob in the game.
Appearance
[
]
The appearance of an iron golem in dungeons was adapted from the appearance of iron golems within the original game, with the only difference being that iron golems in dungeons have glowing eyes.
Spawning
[
]
Behavior
[
]
An iron golem can be summoned when using a golem kit. Unlike the original game's Iron Golem, Iron golems in Minecraft Dungeons are hostile toward creepers. They can also be hostile toward passive mobs that have been attacked by a hunting bow or its unique variants. An iron golem uses the same attack animations as the enderman. They can withstand significant damage. An iron golem has two types of attacks:
Basic attack
Iron golems walk over to hostile mobs and cause significant damage by swinging their arms.
Strong attack
Iron golems slam both arms onto the ground, causing high damage.
Health
[
]
This section of the article is empty.
Sounds
[
]
History
[
]
See also
[
]
Mystery Armor

— Some blacksmiths see the design influence of iron golems in this property-shifting armor.
Trivia
[
]
Gallery
[
]
References
[
]