This article is a work in progress.
Glaive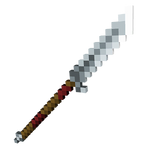 | | | |
| --- | --- | --- |
| " | The glaive, wielded by the servants of the Nameless One, is a weapon with style and power. | " |
| | — In-game description | |
A glaive is a melee weapon in Minecraft Dungeons. They are commonly used by skeleton vanguards. Its unique variants are the Grave Bane, the Venom Glaive, and in the Spookier Fall event, the Cackling Broom.
Obtaining
[
]
Locations
Listed difficulties are considered to be the minimum difficulty the item is obtainable on unless stated otherwise.
Other
Ancient mobs
Usage
[
]
Glaives possess high power, low speed, and moderate range, and have a combo consisting of two overhead strikes and a sweep attack. The first two hits deal the weapon's minimum melee damage, while the sweep attack deals the maximum melee damage.
Abilities
[
]
X melee damage
Longer melee reach
Stats
[
]
| Power | Min Damage | Max Damage |
| --- | --- | --- |
| 1 | 15-16 | 22-23 |
| 5 | 19-20 | 28-29 |
| 10 | 25-26 | 37-39 |
| 15 | 32-34 | 47-50 |
| 20 | 41-43 | 60-63 |
| 25 | 52-55 | 76-80 |
| 30 | 65-68 | 96-100 |
| 35 | 82-96 | 120-126 |
| 40 | 102-107 | 150-156 |
| 45 | 127-132 | 186-194 |
| 50 | 157-164 | 230-240 |
| 55 | 194-202 | 284-296 |
| 60 | 239-249 | 350-365 |
| 65 | 294-307 | 432-459 |
| 70 | 362-378 | 531-554 |
| 75 | 445-464 | 653-681 |
| 80 | 547-570 | 803-836 |
| 85 | 672-700 | 986-1027 |
| 90 | 825-859 | 1210-1260 |
| 95 | 1012-1054 | 1485-1546 |
| 100 | 1242-1293 | 1821-1897 |
| 105 | 1522-1586 | 2233-2326 |
| 108 | 1720-1792 | 1892-2000 |
Sounds
[
]
Gallery
[
]
History
[
]