This article is a work in progress.

Fungus Thrower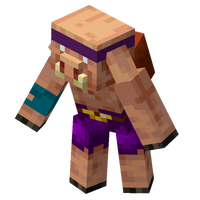 | | |
| --- | --- |
| Behavior | Hostile |
| Natural equipment | |
A fungus thrower is a hostile mob found in the Minecraft Dungeons DLC: Flames of the Nether.
Appearance
[
]
Fungus throwers are a ranged variant of the piglin that throw blue fungi projectiles at heroes. They are seen wearing a purple headband and a light-bluish torn armband on left arm, they also wear purple pants with a gold buckle and a brown leather belt, they are also seen carrying a leather bag filled with blue fungus projectiles that they lob at heroes on their back.
Spawning
[
]
Behavior
[
]
Fungus throwers attack the hero by throwing two Blue Nethershroom as projectiles at once and after that, they distance themselves from the hero and them attack again. The nethershrooms explode into a damaging cloud upon impact, similar to the splash potions of the Witch.
Sounds
[
]
History
[
]
Gallery
[
]
References
[
]