This article is a work in progress.
Please help in the expansion or creation of this article by
expanding or improving
it. The
talk page
may contain suggestions.
Note:
Add the mission objectives.

This page describes content that is a part of the Howling Peaks DLC.
Colossal Rampart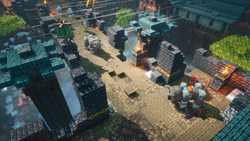 The Colossal Rampart is a secret mission in the Howling Peaks DLC of Minecraft Dungeons. It can be unlocked from the Windswept Peaks.
Story
[
]
| | | |
| --- | --- | --- |
| " | FORMIDABLE FORTIFICATIONS — A formidable wall twists along the base of these mighty peaks, stretching endlessly in every direction. These impressive defenses, abandoned long ago, have now been claimed by Illagers who seek to control the entire mountain range. Drive the Illagers from their newfound fortifications while you still can! | " |
| | — In-game story | |
Objectives
[
]
Appearance
[
]
The Colossal Rampart is a huge fortress housing many mobs built near the edge of the mountain where the Gale Sanctum was built. The rampart seems to have been damaged over time and some of the land has been converted to farmland for any mobs residing within its walls and nearby. Deep within the rampart are two indoor gardens, various winding stairs and hallways, as well as various wind puzzle rooms that share a general look to the Gauntlet and the Sanctum itself. On the farmland are war machines, such as a catapult and a battering ram in which the hero has to burn to progress into the mission.
Mobs and entities
[
]
Native
[
]
Data values
[
]
In the game files, this mission is internally known as the Endless_Rampart.
Trivia
[
]
This mission spawns the widest range of mobs of any location, including the most types of illagers. Every non-boss Illager type is able to spawn here, except for the

vindicator chef

.
Gallery
[
]
Some concept art of the Colossal Rampart.[2]

Stone Pipes inside the Tower within the Colossal Rampart. They can occasionally be replaced with an ambush room.
References
[
]