This article is a work in progress.
Claymore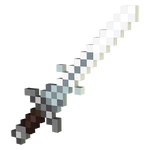 | | | |
| --- | --- | --- |
| " | A massive sword that seems impossibly heavy yet rests easily in a just warrior's hands. | " |
| | — In-game description | |
A claymore is a melee weapon that can be found within the various missions of Minecraft Dungeons. Its unique variants are the broadsword, the heartstealer, the great axeblade, and the frost slayer. It is the only weapon to have four unique variants.
Obtaining
[
]
Missions
Listed difficulties are considered to be the minimum difficulty the item is obtainable on unless stated otherwise.
Merchants
Ancients
Usage
[
]
Claymores possess high power, low speed, and moderate range, and has a combo consisting of a slash, thrust, and a slam. The slash deals the weapon's minimum melee damage, the thrust does about 20% more damage, and the slam does the weapon's maximum melee damage.
Abilities
[
]
X melee damage
Powerful pushback
Stats
[
]
| Power | Min damage | Max damage |
| --- | --- | --- |
| 1 | 18-19 | 32-34 |
| 5 | 23-24 | 40-43 |
| 10 | 30-32 | 53-56 |
| 15 | 39-41 | 69-72 |
| 20 | 49-52 | 88-92 |
| 25 | 62-65 | 111-116 |
| 30 | 79-82 | 140-146 |
| 35 | 98-103 | 175-183 |
| 40 | 122-128 | 218-227 |
| 45 | 152-159 | 270-282 |
| 50 | 188-196 | 334-349 |
| 55 | 232-242 | 413-431 |
| 60 | 287-299 | 510-532 |
| 65 | 353-368 | 628-655 |
| 70 | 435-453 | 773-806 |
| 75 | 535-557 | 950-990 |
| 80 | 657-684 | 1168-1217 |
| 85 | 807-840 | 1434-1494 |
| 90 | 990-1031 | 1760-1833 |
| 95 | 1215-1265 | 2159-2249 |
| 100 | 1490-1552 | 2649-2759 |
| 105 | 1827-1903 | 3248-3383 |
| 108 | 2065-2150 | 3670-3823 |
Sounds
[
]
History
[
]
Gallery
[
]
References
[
]