A chicken jockey tower are a very rare mob in Minecraft Dungeons.
Appearance
[
]
Chicken jockey towers are composed of a chicken jockey with six baby zombies balanced upon each other, with five of them sitting, and the top one balancing standing upright.
Spawning
[
]
Chicken jockey towers can also spawn when night falls, regardless of location, when at least one hero dies in multiplayer.
Behavior
[
]
The behavior of a chicken jockey tower is similar to a normal chicken jockey but is slightly more slow in speed due to the weight of the baby zombies. When the chicken gets hit, this causes the baby zombies to scatter and attack the hero at once.
Sounds
[
]
The Tower
[
]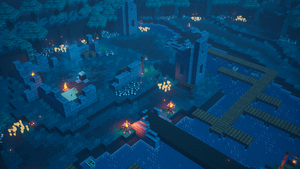 The Tower is the ancient variant of chicken jockey towers that is encountered during Ancient Hunts with the minimum offering of the following runes:
The ancient resides within a Creeper Woods-themed arena and possesses, at minimum, the following enchantments:
Twelve Enchanted Chicken jockeys act as the ancient's minions, possessing the following enchantments:
Upon defeating The Tower, a gilded variant of the following items will drop as a reward:
Trivia
[
]
A jockey tower can be somewhat replicated in the normal game via baby piglins, who will sometimes stack on top of a baby hoglin.
However, using commands, it is possible to perfectly replicate the stack seen in Dungeons.
History
[
]
References
[
]