This article is a work in progress.
Please help in the expansion or creation of this article by
expanding or improving
it. The
talk page
may contain suggestions.
Note:
Add the mission objectives.
Cacti Canyon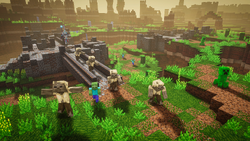 The Cacti Canyon is the seventh location in Minecraft Dungeons. The Cacti Canyon is available after the hero beats Creeper Woods. This is the place where the hero unlocks the Desert Temple.
Appearance
[
]
The Cacti Canyon appears to be a jagged canyon area with uneven terrain and a mix of grass and coarse dirt. It appears to be quite dry and dusty, with only a handful of water sources. Despite the steep terrain and dry conditions, cows and sheep can still be found roaming here. Captured here is the luxury merchant. Halfway through the mission, it transforms into a full on desert, with husks appearing all over along with fossils and high sandy winds as the hero approaches the Desert Temple. The mission ends when the hero reaches the entrance of the temple.
Story
[
]
| | | |
| --- | --- | --- |
| " | LOST IN A SEA OF SAND – Those who wish to reach the desert have to traverse the winding paths and trails of Cacti Canyon. A complex network of tunnels, chasms, and caves have led even the most level-headed adventurers astray. Those who wish to survive this sandy labyrinth must rely on their wits. | " |
| | — In-game story | |
| | | |
| --- | --- | --- |
| " | The Arch-Illager seeks to summon armies of the undead using a power that rests deep within an ancient and forgotten desert temple. Finding the temple, however, is an adventure in its own right for the entrance lies hidden somewhere in this canyon, a sprawling maze of malevolent mobs and lost secrets. | " |
| | — Opening | |
Cacti Canyon is a barren and dusty place, overrun with dangerous enemies. The terrain is confusing, the land is uneven and broken up by deep ravines, and the harsh landscape is full of prickly cacti. The paths between hills are narrow as well.
The dead rise from the remnants of a lost civilization. When the dead walk, their masters, the necromancers always stay behind. The first task of the heroes is to activate beacons to reveal hidden walkways that lead them to the temple. They are heavily guarded by the illagers.
The Desert Temple is well protected by locked gateways. Heroes need to find key golems that are hidden in the dark corners away from any battles. Upon opening the gateway, the heroes are greeted by a horde of skeletons, zombies, and illagers.
| | | |
| --- | --- | --- |
| " | Ah, you found the ancient desert temple. Who knows what truths and treasures await you inside? | " |
| | — Victory | |
Mobs
[
]
Native
[
]
Built On Sand, Set in Stone
Trivia
[
]
In the Cacti Canyon ambient music, vultures can be heard in it.
Gallery
[
]
References
[
]