For the mob within the original game, see
Bee
.

This article is a work in progress.
Please help in the expansion or creation of this article by
expanding or improving
it. The
talk page
may contain suggestions.
Note:
In-game images for the gallery.
| | | |
| --- | --- | --- |
| " | Bee lovers and the bee-loved alike are fans of the Buzzy Nest, but don't be fooled by the cute bees within - they pack a powerful sting! | " |
| | — In-game description | |
The buzzy nest is an artifact that can be found within the various missions of Minecraft Dungeons.
Obtaining
[
]
Missions
Listed difficulties are considered to be the minimum difficulty the item is obtainable on unless stated otherwise.
Merchants
Usage
[
]
When placed down, the buzzy nest summons three bees that attack enemies. The bees disappear after a while. The nest disappears after ten seconds.
Bee
[
]
Bee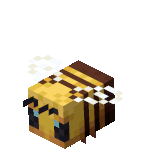 Behavior

Passive (Heroes & Passive mobs)
Hostile (Enemies & Passive mobs targeted by a Hunting Bow and its variants)
A bee is a summonable mob that gets summoned as part of a swarm when the buzzy nest is placed, when a hero wears beenest armor/beehive armor, or any weapon or armor enchanted with tumblebee or busy bee found in Minecraft Dungeons.
Appearance
[
]
Bees appear the same as their Minecraft counterpart, with large eyes, quickly flapping wings, and six legs.
Spawning
[
]
Behavior
[
]
Unlike their Minecraft counterparts, they can sting up to three times before dying. Alternatively, they may last up to thirty seconds. Upon death, bees fade into yellow smoke.
Upon being summoned, they attack nearby hostile mobs with their stingers.
Sounds
[
]
History
[
]
Trivia
[
]
Gallery
[
]
Five bees appear in an image from Minecraft Dungeons, with one of them staring straight, two of them staring at the first one, and the remaining two hovering in the background.[1]
References
[
]