For the normal Minecraft mob, see
Bee
.

This article is a work in progress.
Please help in the expansion or creation of this article by
expanding or improving
it. The
talk page
may contain suggestions.
Note:
In-game images for the gallery.
| | | |
| --- | --- | --- |
| " | Bee lovers and the bee-loved alike are fans of the Buzzy Nest, but don't be fooled by the cute bees within - they pack a powerful sting! | " |
| | — In-game description | |
A Buzzy Nest is an artifact that summons a few bees when placed, similar to Beenest Armor, found in Minecraft Dungeons.
Obtaining
[
]
Locations
Listed difficulties are considered to be the minimum difficulty the item is obtainable on unless stated otherwise.
Other
Usage
[
]
When placed down, buzzy nests spawn three bees that attack enemies. The bees disappear after a while. The nest disappears after ten seconds.
Bee
[
]
Bee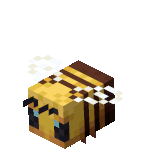 Behavior

Passive (Heroes & Passive mobs)
Hostile (Enemies & Passive mobs targeted by a Hunting Bow and its variants)
A bee is a mob that gets summoned as part of a swarm when a buzzy nest is placed, when a hero wears beenest armor/beehive armor, or any weapon or armor enchanted with tumblebee or busy bee found in Minecraft Dungeons.
Appearance
[
]
This section of the article is empty.
Spawning
[
]
Behavior
[
]
Unlike their normal counterparts, they don't lose their stinger and die after stinging, although they have a short life span, lasting up to thirty seconds. Upon death, bees fade into yellow smoke.
Upon being summoned, they attack nearby hostile mobs with their stingers.
Sounds
[
]
History
[
]
Trivia
[
]
Bees in Minecraft Dungeons are capable of blinking their eyes unlike its base game counterpart.
Five bees appear in a tweet from Minecraft Dungeons, with one of them staring straight, two of them staring at the first one, and the remaining two hovering in the background.[1]
Gallery
[
]
References
[
]