This article is a work in progress.
Bow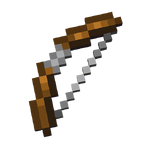 | | | |
| --- | --- | --- |
| " | A simple but well-rounded piece of weaponry. The hunters of the Pumpkin Pastures say that a bow doesn't let you down, unlike other trinkets. | " |
| | — In-game description | |
The Bow is a ranged weapon in Minecraft Dungeons that fires one chargeable arrow. It is seen used by Skeletons, Armored Skeletons, Mossy Skeletons, Strays, and Illusioners. Its unique variants are the Bonebow, the Haunted Bow and the Twin Bow.
Obtaining
[
]
Locations:
Listed difficulties are considered to be the minimum difficulty the item is obtainable on unless stated otherwise.
Other:
Ancient Mobs:
Usage
[
]
Bow is the first ranged weapon that can be used in the game.
The Bow possesses moderate power, low speed, and a large ammo supply. The quiver starts with 100 arrows, normal arrow bundles give 50 arrows, supply chest bundles give another 100 arrows, and Surprise Gift bundles give 25 arrows.
Bows can be shot immediately for the minimum damage or charged for maximum damage if the ranged attack button is held down. Ranged weapons require the player to have at least one normal arrow or a special arrow from a quiver artifact in their inventory to shoot. Players can also cancel shots by using the melee attack button and releasing the ranged attack button while the melee button is still held.
Damage caused by the arrows can be increased with enchantments, the Strength buff, and certain armors that have ranged damage increases, such as the Hunter's Armor.
Stats
[
]
Multiplier: 1-2.5
Quiver: 80
| Power | Min Damage | Max Damage |
| --- | --- | --- |
| 1 | 10-25 | 11-27 |
| 5 | 13-32 | 13-33 |
| 10 | 17-42 | 17-44 |
| 15 | 21-54 | 23-56 |
| 20 | 27-69 | 29-72 |
| 25 | 35-87 | 36-91 |
| 30 | 44-109 | 46-114 |
| 35 | 55-136 | 57-143 |
| 40 | 68-170 | 71-177 |
| 45 | 84-211 | 88-220 |
| 50 | 105-261 | 109-273 |
| 55 | 129-323 | 135-337 |
| 60 | 159-398 | 166-415 |
| 65 | 196-491 | 205-511 |
| 70 | 242-604 | 252-629 |
| 75 | 297-742 | 309-773 |
| 80 | 365-912 | 380-950 |
| 85 | 448-1120 | 467-1167 |
| 90 | 550-1375 | 573-1432 |
| 95 | 675-1687 | 703-1757 |
| 100 | 828-2069 | 862-2154 |
| 105 | 1015-2537 | 1057-2642 |
| 108 | 1147-2867 | 1194-2985 |
Sounds
[
]
History
[
]
Gallery
[
]