This article is a work in progress.
| | | |
| --- | --- | --- |
| " | Description — The best-selling video game franchise of all time has come to the arcade. After launching a successful partnership with the smash hit Halo: Fireteam Raven, Raw Thrills and Play Mechanix have released their latest venture with Microsoft and Mojang Studios – Minecraft Dungeons Arcade! Minecraft Dungeons Arcade is an epic, action-packed adaptation of the popular console and computer game Minecraft Dungeons, a multiplayer "dungeon crawler" set within the Minecraft universe. In Minecraft Dungeons Arcade, up to four players use a diverse arsenal of melee and range weapons to battle through hordes of dangerous enemies and monstrous bosses across nine unique levels! With every play, the stunning cabinet vends one of 60 collectible cards that fit into one of five categories – Melee, Range, Armor, Pet or Skin – and can be used to customize the player's adventure. With over 100 minutes of thrilling, fast-paced gameplay and 60 exclusive cards to collect, Minecraft Dungeons Arcade is the blockbuster, family-friendly title that will keep players of all ages coming back to your location time and time again! | " |
| | — Raw Thrills description[1] | |
Minecraft Dungeons Arcade
| | |
| --- | --- |
| Author(s) | |
| Platform(s) | |
| Written in | N/A |
| Latest version | N/A |
| Release date | Q3 2021 |
| Rating(s) | N/A |
| Size | N/A |
| License | N/A |
| Source available | N/A |
Minecraft Dungeons Arcade is an arcade variant of Minecraft Dungeons announced on March 5th, 2021.[2][3] The game is developed by Mojang Studios in conjunction with Play Mechanix and it was released in the third quarter of 2021.[4]
Gameplay
[
]
Like Minecraft Dungeons, this game supports up to four players and features various weapons, armors, heroes, and mobs.[5] This game is similar to Minecraft Dungeons, in that players explore various locations and defeat various hostile mobs, but the game uses a side-on perspective instead of an isometric perspective as in the main game. The hero can also use physical collectible cards obtained after completing a game to select their gear as well as a pet and a hero. There appears to be some exclusive mobs such as the Obsidian Monstrosity, the Mage, and multiple armored variants of various undead mobs, like armored variants of the Jungle Zombie and the Frozen Zombie.
Appearance
[
]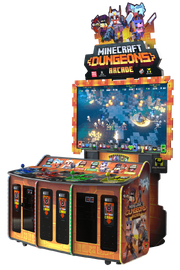 The game has a big flat screen outlined with what looks like a lava texture. Right below that is the hinge that displays 5 cards in front of a orange background with the Play Mechanix logo on the right. The top of the cabinet has the logo for Minecraft Dungeons Arcade with four Minecraft Dungeons heroes above it. The console has four control panels (up to 4 players can play at once) displaying characters right above each one. Each panel is colored indicating the player, Player 1 is blue, Player 2 is red, Player 3 is green, and Player 4 is yellow. Below the console is where the cards are ejected from the system - you may scan these cards after each round to play as a desired hero, to equip a desired item or to receive a desired pet.
Additions
[
]
The following is included within the arcade:
Added

Includes
Added
Includes
Added

Includes
Added

Includes
Added

Includes
Added

Includes
Added
Ebo

Elan

Frisk

Ivy

Meadow
Includes
Includes
Entities
[
]
Added
Includes
Added

Includes
Added

Includes
History
[
]
Trivia
[
]
Gallery
[
]
References
[
]
Help
Menu screens
Developers
Game customization
Editions

Java
Bedrock

| | |
| --- | --- |
| Merged | |
| Ports to consoles | |
| Discontinued | |

Other
Discontinued

Games
Films
Books
Other media
Annual events
Official merchandise
Crossovers
Miscellaneous