Apple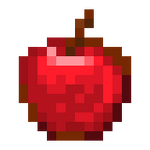 An apple is a food item in Minecraft Dungeons. When consumed, it heals 20% of a player's max HP over three seconds.
Obtaining
[
]
Apples are mainly obtained by defeating mobs and opening chests.
The common armor enchantment Food Reserves has a chance to create apples, as well as other food items.
An apple is the most common food item dropped by mobs in all locations except for Flames of the Nether, where pork is dropped frequently.
Sounds
[
]
Gallery
[
]
History
[
]