1.6.0.0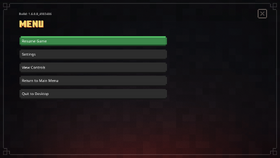 Game
Internal version
Release date

November 17, 2020

Other instances
of 1.6
1.6.0.0 is an update to Minecraft Dungeons released on November 17, 2020, which added cross-platform features, among other changes.[1]
Additions
[
]
General
[
]
Changes
[
]
Threat Level can now be adjusted on Daily Trials
Shockwave now collides with walls, much like a regular arrow
Shockwave damage 35 -> 30
Swirling Damage 45 -> 40
Pickaxe attack delay 0.6 -> 0.7
Pickaxe damage 112 -> 130
Fixes
[
]
The Chat Wheel prompt now shows the correct input on all platforms
The player count of game session on the in-game friend list now updates as soon as a player leaves a session
Fixed Prospector and Looting enchantments triggering either once per mission, or not at all (MCD-4630)
Sound of disappearing Soul Wizard is now affected by Master Volume (MCD-4688)
Fixed missing Enchanter death sounds (MCD-4441)
Lowered the volume of Mossy Skeleton shooting sounds (MCD-4330)
Fixed mob respawning playing the same sound effect as player respawning
Lowered the volume of sounds when navigating merchant screens
Trivia
[
]
In the room of the PlayStation user, a pixelated version of the Update Aquatic poster can be seen in the background.
Many Illageralt writings can be seen in the backround of the trailer, which read "Mining is good", "Blockiness Awaits", "Creep it" (With an image of a creeper), and "Together Forever".
Gallery
[
]
References
[
]