"

DUNGEONS PRIMER – Dungeons is perfect for any Minecraft fan looking for a brand new challenge. It might look fairly familiar, but it plays completely differently to what you'd expect. For the uninitiated, here's a quick guide to get you up to speed on this epic new blockbuster.

"
— Guide to Minecraft Dungeons:
A Handbook for Heroes
Minecraft Dungeons is an action-adventure role-playing video game developed by Mojang Studios, Xbox Game Studios and Double Eleven. It was released on May 26, 2020, for Windows (via minecraftdungeons.net and Microsoft Store/Xbox app), Xbox One, Nintendo Switch, and PlayStation 4, on November 10, 2020, for the Xbox Series X|S, and on September 22, 2021, for Steam for Windows.[3] The PlayStation 4 version is playable on the PlayStation 5 via backwards compatibility.[16] The Steam version is playable on the Steam Deck.[17] The game is also playable on Android, iOS, iPadOS, and Samsung 2022 or later smart TVs and smart monitors via Xbox Cloud Gaming and supports touch controls.[18][19] Minecraft Dungeons on Xbox Clould Gaming requires a Xbox Game Pass Ultimate membership.
Originally conceived as a singleplayer[20] game for the Nintendo 3DS,[21] Minecraft Dungeons takes inspiration from classic dungeon crawlers. It also features music by Peter Hont, Johan Johnson, Samuel Åberg, Eugnosis, Rostislav Trifonov, and Grant Kirkhope.
Purchase and availability
[
]
The Standard Edition of the game is available for US$19.99 (CA$25.99, €19.99, £16.74, AU$29.95, NZ$39.95, SG$29.95).
The Ultimate DLC Bundle released on July 28, 2021. It is available for US$19.99 (CA$25.99, €19.99, £16.74, AU$29.95, NZ$39.95, SG$29.95) and includes all six DLCs along with content from the former Hero Pass.
Minecraft Dungeons: Ultimate Edition also released on July 28, 2021. It is available for US$39.99 (CA$51.99, €39.99, £33.49, AU$59.95, NZ$63.95, SG$57.75) and includes the base game and all contents of the Ultimate DLC Bundle. The physical version released on October 26, 2021 (released for the Nintendo Switch in Australia and New Zealand at a later date).
The DLC packs are also available separately for US$5.99 (CA$7.69, €5.99, £4.99, AU$9.05, NZ$8.70, SG$8.70) each.
There are also two Adventure Passes that are available for US$3.99 (CA$5.29, €3.99, £3.29, AU$5.95, NZ$5.90, SG$5.70) each. These will allow players to receive more content from partaking in the Cloudy Climb and the Luminous Night seasonal adventures.
The game is available on the following platforms:
Windows:

minecraftdungeons.net
Microsoft Store/Xbox app

Steam (Windows & Steam Deck)
Android, iOS, & iPadOS (via Xbox Cloud Gaming)
Xbox One & Xbox Series X|S
Nintendo Switch
PlayStation 4
PlayStation 5 (via backwards compatibility)
Samsung smart TVs & smart monitors from 2022 or later (via Xbox Cloud Gaming)
There are two different editions of the game:
Standard Edition
Ultimate Edition
Discontinued Editions:
There are two available passes for the game:
Cloudy Climb Adventure Pass
Luminous Night Adventure Pass
Gameplay
[
]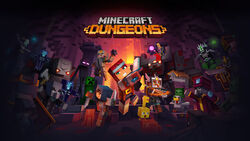 The game supports up to four players and features various new weapons, items, and mobs, as well as a variety of environments to explore and an overarching quest that sees the player characters, heroes, face off against a main antagonist, called the Arch-Illager. The game has specific quests and locations, along with procedurally generated elements.[22] The player is not restricted to one class, and can pick up more armor or weapons and use them. Players can not build or mine because the game is focused on action/adventure. The game takes place both above ground and below. Players can re-play levels they have previously beaten. There is a camp "hub" that takes place in part of the tutorial mission, the Squid Coast, with shops unlockable by saving merchants. Missions are procedurally generated, and Mojang was considering using level generation seeds.[23]
Players can choose a character from a variety of heroes provided, with additional heroes available as paid DLC. Character creator skins as well as skins purchased in regular Minecraft are not available for use in Minecraft Dungeons.
Hero
[
]
The hero is the character that the player controls in the game. When starting a game, the player can choose a cosmetic hero that they can use throughout the game. All of the heroes are purely cosmetic and do not offer special exclusive benefits.
When selecting a hero, all loot, levels, and progress gained stays only on that hero and does not carry over into other heroes that the player plays as. If the player started a game with a hero, but changed their mind and wants to play as a different hero with different loot, they can duplicate the hero with the same loot the original hero had.
Locations
[
]
When the player starts up the game for the first time, the hero that they select begins at the Squid Coast. They then progress throughout the other locations, such as the Creeper Woods, until they reach the final mission of the base game, the Obsidian Pinnacle. Sometimes a location can generate a room that allows access to a secret location, such as the Creepy Crypt, the Lower Temple, the Soggy Cave, Arch Haven, or the Underhalls. Other missions can be accessed by proceeding through the missions normally, such as Pumpkin Pastures, Redstone Mines, the Desert Temple and Highblock Halls. Most of the locations of the main story with the Arch-Illager take place on the mainland. Other locations are available only through the DLC packs. The secret location, ???, requires heroes to collect all nine runes after defeating the Arch-Illager.
Items
[
]
Weapons are tools that can be used to damage entities with either melee or ranged attacks. They can be enchanted to increase their effectiveness.
Armor is used to protect the hero from damage and provide additional health. It can be enchanted to increase its effectiveness as well as provide miscellaneous uses to the hero, like a burning aura through the burning enchantment or a chilling aura that slows mobs through the chilling enchantment, both of which doesn't necessarily boost protection, but provide more utility to the hero.
Artifacts are objects that the hero can use to gain a significant power-up, damage foes, heal allies, etc. They behave like spells which provide an effect and are on a cooldown timer. The effectiveness of artifacts can be augmented through certain armor enchantments.
Consumables are non-equipable items that randomly drop during gameplay to restore health, ammo and provide temporary positive Status effects to the hero as well as deal massive splash damage to foes.
Cosmetics include capes and pets that provide no functional benefit to the hero and are designed for cosmetics and looks. Capes can either be obtained by players who own the Hero Pass, are free or were obtained by completing a set amount of Seasonal Trials. Pet cosmetics are either free, require the player to purchase DLC to be equipped, or by completing a set amount of Seasonal Trials.
Heroes can gift weapons, armor and artifacts to heroes made by other players by interacting with the gift wrapper.
Enchantments
[
]
Weapons and armor collected throughout the game possess randomly selected enchantments that, once activated by spending enchantment points obtained by levelling up, augment and alter the properties of the equipment. Equipment can appear with up to three enchantment slots each possessing a maximum of three enchantments to select from of which one can be activated. Enchantments are specific to the equipment type they appear on; ranged weapons enchantments never appear on armor, for instance.
Enchantments can enhance damage output, increase defense, apply positive or negative Status Effects, restore or increase health and speed, spawn consumables, emeralds, bees, escape death, and more.
Mobs
[
]
Mobs (short for "mobiles") are creatures encountered throughout the game. Most in Minecraft Dungeons are hostile and attempt to destroy the hero on sight, some are passive and never attack, and few are neutral that attack only if the hero attacks it first. Mobs summoned by the hero are friendly, cannot be directly damaged by the hero, and attack hostile mobs.
There are four broad types of hostile mobs that the heroes fight in the game: mobs, enchanted mobs, powerful mobs, and bosses.
Defeating mobs gives the hero experience and they often drop emeralds, consumables, weapons, and armor.
Throughout the game, mobs ambush the hero and a rising gate blocks further progression until all mobs that spawned in the ambush are defeated. The Arch-Illager can be seen initiating most of the ambushes on the Mainland.
Synopsis
[
]
Minecraft Dungeons is set in the same universe as Minecraft.[3] Unlike Minecraft, which is a sandbox, the game features a linear, story-driven campaign, and cinematics. The opening cinematic tells the story of an outcast Illager named Archie, who was rejected by all those who he met. One day, he stumbled upon a powerful artifact known as the "Orb of Dominance," which granted him great powers but also began to influence his decision making. The power-hungry "Arch-Illager" then sought vengeance on all those who wronged him, and soon subjugated the world with his new army, raiding villages, forcing villagers to work as slave labor, and leaving only chaos behind. It's now up to the hero to stand up against the Arch-Illager's tyranny in order to defeat him and save the world.[24]
The hero explores various locations in their quest to stop the Arch-Illager, fighting his army and completing quests in order to pass on to the next mission. Ultimately, they face the Arch-Illager in his castle, defeating him and shattering the Orb of Dominance in the process, which frees Archie from its influence. Afterward, they show kindness to Archie, much to his surprise, and together they celebrate that evil has been defeated and the world saved, though the Orb is later shown to be rebuilding itself.
The DLC packs continue the story as follows:
In Creeping Winter, another orb fragment corrupts a

Wraith

, covering the island in an eternal winter. The hero must defeat the

Wretched Wraith

, destroy the shard and rid the island of its eternal winter.
In Howling Peaks, another orb fragment lands on top of a mountain, corrupting the fabled

Tempest Golem

. The hero must leap up the mountain and defeat the corrupted protector of the sanctum.
In Flames of the Nether, the hero travels to The Nether. The Orb of Dominance is not in this DLC, therefore there is not a main boss. The only hint of a narrative in this DLC alludes to the hero's portal breaking, and having to find a new one.
Development
[
]
The game was announced at MINECON Earth 2018.[22] It appears as a visually enhanced version of the base Minecraft game, but has a different gameplay style.[25] The game is inspired by classic dungeon crawlers[3] and, according to Marc Watson, was originally "made up of the remnants of the Scrolls team".[20] On September 17, 2019, Double Eleven announced that they are assisting Mojang Studios and Xbox Game Studios with development, particularly with multiplayer and the console versions.[26]
Minecraft Dungeons was given an April 2020 release date in November 2019,[27] though this date was delayed to May 26, 2020, due to the outbreak of COVID-19.[28] The closed beta for the game ran from March 25 to April 24, 2020.[29][30]
Supported languages
[
]
According to this page:
| Languages | Interface | Full Audio | Subtitles |
| --- | --- | --- | --- |
| English | Yes | Yes | Yes |
| French | Yes | Yes | Yes |
| German | Yes | Yes | Yes |
| Japanese | Yes | Yes | Yes |
| Italian | Yes | No | Yes |
| Korean | Yes | No | Yes |
| Spanish (Spain) | Yes | No | Yes |
| Spanish (Latin America) | Yes | Yes | Yes |
| Russian | Yes | No | Yes |
| Swedish | Yes | Yes | Yes |
| Portuguese (Brazil) | Yes | Yes | Yes |
| Portuguese (Portugal) | Yes | No | Yes |
| Polish | Yes | No | Yes |
| Chinese (Simplified) | Yes | Yes | Yes |
| Chinese (Traditional) | Yes | Yes | Yes |
System requirements
[
]
According to this page:
| Component | |
| --- | --- |
| OS | Windows 11, Windows 10 (November 2019 Update or later), or Windows 7/8/8.1 (64-bit with the latest updates) |
| Processor | Intel Core i5 2.8 GHz or equivalent |
| Memory | 8 GB RAM or more and 2 GB VRAM or more |
| Hard disk space | 6 GB available space |
| Graphics drivers | NVIDIA GeForce GTX 660 or AMD Radeon HD 7870 or equivalent DX11 GPU |
| DirectX version | 11 or later |
| Notes | Not supported on Windows in S mode. Some functionality not supported on Windows 7/8/8.1 |
Media
[
]
Guide to Minecraft Dungeons: A Handbook for Heroes

[

]
Guide to Minecraft Dungeons: A Handbook for Heroes is a guide book for Minecraft Dungeons that was released on May 26, 2020 as a hardcover and e-book.[31][32]
Minecraft Dungeons: The Rise of the Arch-Illager

[

]
Minecraft Dungeons: The Rise of the Arch-Illager is a novel about the background story on the origins of the Arch-Illager by American author Matt Forbeck. It was published by Del Rey Books on July 7, 2020 in North America and on July 9, 2020 in the United Kingdom.[33][34] It was released as a hardcover, e-book, and audio book all of which were available to purchase on the same day.[34]
Merchandise
[
]
LEGO
[
]
Minecraft Dungeons also has its own LEGO set called "21163 The Redstone Battle", which features the four main heroes Valorie, Hex, Hal and Adriene along with the Redstone Monstrosity and the Redstone Golem, as well as a Piggy Bank. It was released on June 1st, 2020. Another Minecraft Dungeons LEGO set was revealed which is called "21176 The Jungle Abomination" which features the two heroes of the Jungle Awakens, a Mossy Skeleton, an Iron Golem, an enchanted Creeper, a Poison-Quill Vine and the Jungle Abomination itself. It was released on August 1st, 2021.
Gallery
[
]
References
[
]
External links
[
]
Microsoft Store/Xbox app (Windows) store pages
[
]
Steam (Windows & Steam Deck) store pages
[
]
Xbox One & Xbox Series X|S store pages
[
]
Xbox Game Pass (Android) store pages
[
]
Nintendo Switch store pages
[
]
Standard Edition:
Minecraft Dungeons Hero Edition:
Minecraft Dungeons: Ultimate Edition: