Minecraft: Mob Squad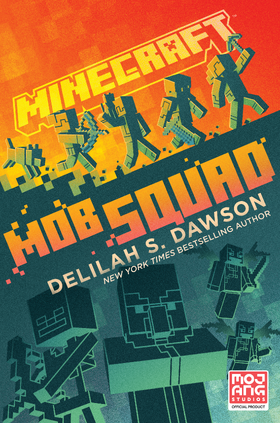 Author
Audio read by

Jessica Almasy
Keylor Leigh
Barrett Leddy
Michael Crouch

Cover artist

TBA

Country
Language

English

Genre

Fiction

Set in
Publisher
Published

September 28, 2021

Media type

Print, Digital

Pages

304

ISBN

978-0-593-35577-0

OCLC

1241164698
Minecraft: Mob Squad is the upcoming ninth Minecraft novel. It is authored by Delilah S. Dawson, and is slated to be published by Del Rey Books on September 28, 2021.[1] An audiobook is slated to be released the same day, with narration provided by Jessica Almasy, Keylor Leigh, Barrett Leddy, and Michael Crouch.[1]
A sequel, currently untitled, is slated to be released on March 1, 2022.[2]
Synopsis
[
]
The village of Cornucopia is practically perfect in every way. Plenty of food, cozy homes, and a huge wall to keep everyone safe from the scary world outside. What more could a kid possibly need? Well, a lot, actually.
Mal, a fearless girl, needs adventure, and her friends are right there with her: Lenna, a dreamer whose family underestimates her every day. Tok and Chug, brothers who love to build stuff (Tok) and smash stuff (Chug). They're best friends, and in a town whose grown-ups value safety over bravery and fitting in over standing out, they're the bad apples.
But when a mysterious mob sneaks past Cornucopia's defenses, the village is in huge trouble. And nobody knows what to do. Finally faced with the adventure she's always wanted, Mal and her friends defy the rules their elders have always followed and set out beyond the wall for the first time.
On their journey across the Overworld, they discover wonders they've never dreamed of and dangers they've never imagined. To save the day, they'll have to prove they're more than bad apples. They're the Mob Squad![1]
Trivia
[
]
This will be the first Minecraft novel to not have the word "The" in its title.
References
[
]
↑ Product description of Mob Squad #2: "An official Minecraft novel continuing the adventures of the Mob Squad."
Help
Menu screens
Developers
Game customization
Editions

Java
Bedrock

| | |
| --- | --- |
| Merged | |
| Ports to consoles | |
| Discontinued | |

Other
Discontinued

Games
Films
Books
Other media
Events
Official merchandise
Miscellaneous