Minecarts with spawners are a combination of both minecarts and spawners.
Obtaining
Usage
The spawner within behaves the same way as normal spawners; but the entity to be spawned cannot be set via using Spawn Eggs; the spawner's data can only be modified using commands or NBT edits. It has the same associated NBT tags as a normal spawner.[1]
More preicsely, a spawner minecart acts as a spawner block at the minecart's position. In other words, if the spawner minecart moved within a block position, the range of spawn would not change, but if it moved 5 blocks east, the range of spawn would now be centered at the spawner minecart's new position.
Drops
Sounds
Data values
ID
| Entity | Namespaced ID | Translation key |
| --- | --- | --- |
| Minecart with Spawner | spawner_minecart | entity.minecraft.spawner_minecart |
Entity data
Minecarts with spawners have entity data associated with them that contain various properties of the entity.
Entity data

Tags common to all entities
Tags common to all minecarts
Tags common to all spawners
History
Issues
Issues relating to "Minecart with Spawner" are maintained on the bug tracker. Report issues there.
Gallery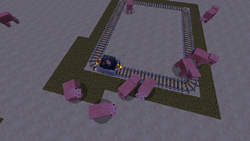 References