This article is a work in progress.
Mangrove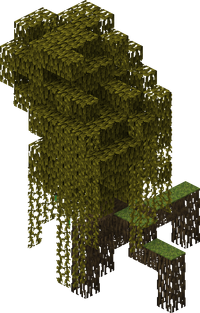 Biomes
Consists of
Can generate in
existing chunks

Yes
Mangrove trees are found in mangrove swamps, in which they can grow on water or land. They have large canopies and aerial root systems. Their wood is vermillion in color. They can be planted in the air, but their roots always touch the ground.
Blocks and items
[
]
These items can be obtained from mangrove:
Planting
[
]
Mangrove propagules can be planted and grown on all of these blocks:
When mangrove trees grow, they convert any mud in the way of the mangrove roots to muddy mangrove roots. They need at least a 5×5 of clear space to grow in. Their maximum size blueprint occupies a 13×13×18 volume.
History
[
]
Issues
[
]
Issues relating to "Mangrove" are maintained on the bug tracker. Report issues there.