Lydia Winters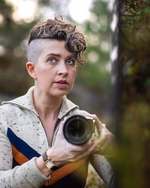 | | |
| --- | --- |
| Real name | Lydia Winters |
| Date of birth | |
| Occupation | Chief Storyteller |
| Nationality | American |
| Languages | English |
| Known for | Announcing updates at MINECON |
| Twitter name | |
| Minecraft name | |
Lydia Winters is Mojang Studios' Chief Storyteller. Prior to 2020, she was known as the brand director, and before that as the director of fun. She is best known for being a part of MINECON livestreams, where she generally welcomes people to the event, and is also a special advisor at Block by Block, a charity dedicated to using Minecraft to improve public spaces worldwide. She is generally known as the first woman to have been hired by Mojang.[1]
Early life
[
]
Winters graduated in 2008 from Florida Atlantic University with a bachelor's degree in "Elementary Education and Teaching".[2] She then taught fourth grade for a year before delving into photography, often shooting local weddings.[3] Later, she discovered video blogging after attending a photography workshop, and began making daily videos about random topics. Despite her style becoming popular, which also led to her raising $10,000 for breast cancer research, she then decided to focus her videos on videogames after consulting with friends.[3] Although Winters had played only one video game by then, The Oregon Trail, she decided to play Minecraft as her friends thought it would be hilarious. On November 15, 2010, she uploaded her first video to YouTube under the name "MinecraftChick" as "Minecraftgirl" was already taken.[3][4]
Career
[
]
By June of 2011, Winters sent an email to Mojang asking if she could interview the creators of Minecraft at that year's E3. Carl Manneh, the CEO of Mojang at the time, replied, asking her if she could host a portion of their booth dedicated to Minecraft on the Xperia Play.[3] She accepted, and was soon at the booth in Los Angeles. Manneh was so impressed with how she acted that he had told the rest of the staff that Winters would be hired. She was then hired on June 28, 2011, and flew to Stockholm that December.[3][5]
Over time, Winters' job has evolved from being a community builder to a more senior role toward merchandising, licensing, and events. Winters says that she also had an instrumental role in adding Alex, the predominantly female character, to Minecraft.[3] As with licensing, Winters tends to avoid using gendered typecasting as a way of making Minecraft accessible to everyone, saying that she wouldn't approve descriptions of Steve and Alex if they weren't gender neutral.[3]
Filmography
[
]
Gallery
[
]
References
[
]