This article describes content that may be included in Java Edition.
This content has appeared in
Java Edition 1.18
development versions, but the full update containing it has not been released yet.

This page contains content on features that are part of Experimental Gameplay in Bedrock Edition.
These features may be properly added in a future update, but requires the "Caves and Cliffs" option toggled to be enabled in the current version.
Lush Caves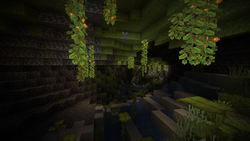 A lush cave is a temperate Overworld cave biome that has a unique fauna and flora and is found underground below azalea trees.
Description
[
]
Azalea trees generate on any empty space above a lush cave, with roots consisting of rooted dirt and hanging roots that generate down until reaching the lush cave. This is most common at the surface, but they can sometimes generate inside caves if there is enough room and a lush cave below. In Bedrock Edition, the grass and foliage take a light green color, the same from mushroom fields biomes.
In Bedrock Edition, If a biome other than a jungle has random vines on the side of the terrain, then it is over a lush cave biome.
Underground, moss and ores covers the floors and ceilings, along with moss carpets, grass and azalea bushes on the floors. On the ceiling, vines and cave vines with glow berries grow down and light up the caves, and spore blossoms grow from the ceiling and drip water particles. A lush cave contains springs and shallow lakes with clay where dripleaf plants grow out of them. Sometimes these lakes generate dry.
In Java Edition, lush caves generate naturally in caves after 1.18 Experimental Snapshot 1. In Bedrock Edition, lush caves generate rarely and randomly in caves if the Experimental Gameplay feature is turned on.
Players cannot spawn in a lush caves biome during the world generation.
Bats, glow squid, and axolotls are the only passive mobs that spawn.
Data values
[
]
ID
[
]
History
[
]
Issues
[
]
Issues relating to "Lush Caves" are maintained on the bug tracker. Report issues there.
Trivia
[
]
The Swedish painter John Bauer was one of the main inspirations behind the design and idea of the lush caves biome, specifically Bauer's 'Oskuldens Vandring' (Innocent's Journey) painting.[3]
Gallery
[
]
References
[
]
See also
[
]