"Raine" redirects here. Not to be confused with
Rain
.
Lena Raine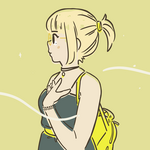 | | |
| --- | --- |
| Occupation | Freelance musician |
| Nationality | American |
| Website | |
| Known for | Producing Nether Update and Caves & Cliffs music for Minecraft. |
| Also known as | |
| Twitter name | |
Lena Raine (/ˈleɪ.nə/ LAY-nah or /ˈlɛ.nə/ LEN-ah)[1], also known as Lena Chappelle or kuraine, is a music producer who composed tracks for the Nether Update and Caves & Cliffs Part II.[2][3] All of these songs are featured in her album Minecraft: Nether Update (Original Game Soundtrack).
Biography
[
]
Lena Raine was exposed to music at a young age through her participation in a youth choir and her father, who was a violinist.[4] She was introduced to MIDI arrangement through a Sonic fan community, where she began recreating songs she already knew and then eventually creating original music.[5] She attended Cornish College of the Arts and got a degree in music composition.[6] Raine is well known for her work on the soundtracks of Celeste and Guild Wars 2. In 2019, she was nominated for a British Academy of Film and Television Arts award and won the American Society of Composers, Authors and Publishers Video Game Score of the Year.[7][8]
Gallery
[
]
See also
[
]
References
[
]

Mojang Studios employees
Current

Game development

Garrett Allen
Cristina Anderca
Mark Andersen
Pouya Ashraf
Sandra Bornemark
Johannes Busch
Jason Cahill
Lauren Careccia
Vince Curley
David Dalström
Sofia Dankis
Issac Dayton
Steve Enos
Jonathan Gallina
Matthew Gatland
Chad George
Jared Greiner
Bjarni Gudmundsson
Zackarias Gustavsson
Kelsey Howard
Nilay Karaoglu
Rasmus Källqvist
Jonas Keating
Kristoffer Kobosko
Piotr Kundu
Craig Leigh (Ledski)
Michael Malmqvist
Jeff McKune
Haronid Moncivais
Lucas Morales
Albin Odervall
Torfi Olafsson
Alexander Östman
Tod Pang
Pradnesh Patil
Anna Päärni
Oskar Pedersen
Wes Pesetti
Cole Phillips
Hector Pineda
Rob Poerschke
Paulo Ragonha
Eric Rehmeyer
Jakob Ryden
Lawrence Sanchez II
Alexander Sandor
Paul Schierman
Jin Shin
Jake Shirley
Billy Sjöberg
Michael Stagnitta
Craig Steyn
Alexander Torstling
Rostislav Trifonov (Otzem)
Niclas Unnervik
Arthur Usher (Art)
Nir Vaknin (Ulraf)
Robin Vincent
Michael Whiteley (Mikaus)
James Yarrow
Jifeng Zhang

Artists

Torbjorn Allard
Michael Apolis
Kirk Barnett
Jan Cariaga
Jakob Gavelli
Joel Garvin
Christine Gutiérrez
Jesper Hallin
Lisa Hazen
Markus Karlsson
Sarah Kisor
Sherin Kwan
Ola Lanteli
Débora Martins
Michael Neumann
Wiktor Persson
Kim Petersen
Dylan Piepenbrok
Morten Rasmussen (MortMort)
Ryan Sand
Peter Sheff
Telemachus Stavropoulos
Brendan Sullivan (Sully)
Seung Sung
Richard Worley
Chi Wong
Andy Zibits

Marketplace development
Release management
Software/system development

Ayannah Adegeye
Rob Austin
Maxime Bouchez
Jason Burch
Bill Carlson
Stacy Chen
Guillaume Chenadec
Anthony Cloudy
John Copic
David Cowan
Nicholas Curtis
Joshua Davis
Danila Dergachev
Curtis Eichner
Katie Ellison
Elijah Emerson
A.J. Fairfield
Don Frazier II
Mike Frost
Petter Gisslen
Henry Golding
Mark Grinols
Khaleel Harper
Matt Hawley
Fanny Herrera
Zane Hintzman
Jonathan Hoof
Declan Hopkins
Dom Humphrey
Robert Hunt
Maksim Ivanov
Eric Johnston
Maria Katsourani
Radha Kotamarti
Emily Koykka
Tyler Laing
Anders Martini
Dan Mauk
Michael McGrath
Gary McLaughlin
Chad Meyers
Drew Okenfuss
Adrian Orszulak
Jeff Ott
Shane Pierce
Dan Posluns
Ryan Rae
Robert Sanchez
Tristan Schneider
Michael Scott
John Seghers
Michael Seydl
Jaafer Sheriff
Yash Shroff
Kristin Siu
Greg Snook
Nathan Sosnovske
Matt Staubus
Mike Swartz
Brian Trevethan
Alex Troyer
Peter Wiest
Aaron Woodward
Kari Whiteside
Alexander Wilkinson
Wenlan Yang

Content and community

Kristina Horner
Joel Sasaki
Andreas Thomasson
Oskar Thysell

Realms development

Jole Bergman
Nicholas John Curtis
Mark Jawad
Nico Suc

Business development

Gama Aguilar-Gamez
Jenny Ahnell
Charlotte Angantyr
Dom Arcamone
Isabella Arningsmark
Kristina Ashment
Joël Älveroth
Sara Bach
Todd Baldwin
Todd M. Baldwin
Daniel Beasley
Adam Blänning
Marcus Bodin
Bryan Bonham
Melissa Boone
Bob Brennecke
Aaron Buckley
Mike Carlson
Roger Carpenter
Sarah Carton
Inga Chamberlain
Annie Chenn
Helen Chiang
Bill Chism
Yesenia Cisneros
Ryan Cooper
Sara Cornish
Tia Dalupan-Wong
Max Davidson
Erin Decker
Scott Dell'Osso
Carrie Doring
Jeanie DuMont
Ludwig Edenbäck
Gaylord Escalona
Cesar Sima Falck
Sebastian Falk
Thomas Feng
Jessica Freeman
Abigail Gaddis
Egil Gloersen
Rebecca Gordius
Ani Grey
Jerome Hagen
Ellen Hahm
Klas Hammarström
Katy Hanson
Katharina Hautz
Devarshi Hazarika
Deanna Hearns
Kelly Henckel
Catherine Hendrix
Saher Hirji
Shelia Ho
Travis Howland
Michelle Hua
Ulrika Karlsson (Maggan)
Nick Ketter
Melinda Knight
Kara Kono
David Lau
Eileen Lee
Adam Lemcio
Riccardo Lenzi
Best Liang
Sara Lidberg
Jaime Limón
Bill Lindell
Robin Linder
Delilah Liu
Lisa Liu
Luis Liu
Patrick Liu
Justine Loong
Stephanie Louie
Alice Löfgren
Fergus Lynch
Stefan Lyrmark
Georgia Marra
Anton Maslenikov
Allison Matthews
Stephen McHugh
Michael McManus
Jesse Merriam
Rebecca Miller
Pablo Morales
Micah Myerscough
Yutaka Noma
Regan O'Leary
Julie Olden
Josefin Olsson
Katie Penza
Olle Personne
Carina Petersson
Deirdre Quarnstrom
Jason Rice
Dennis Ries
Evelina Rollfelt
Nathan Rose
Jeff Rivait
Francisco Rius
Marcus Rundström
Maja Samuelsson
John Schork
Audrey Searcy
Hai Shi
Bhrigu Shree
Thommy Siverman
Åsa Skogström
Alina Skripnik
Jeremy Snook
Amy Stillion
DJ Stiner
Anita Sujarit
Kasia Swica
Eric Taylor
John Thornton
Susie Tinker
Adam Tratt
Ida Utterström
Alen Voljevica
Kayleen Walters
Christy Weckner
Michael Weilbacher
Judy Wheeler
Thomas Wiborgh
Nedra Wilson
Anton Wu
Bill Wu
Micky Yamaguchi
Jessica Zahn
Maru Zamora
Olga Zielinska
Amy Zou

Customer support

Nasim Derakhshan
Anne Quaranta
Jen Pedersen

Intellectual property enforcement

Liz Bostick
Tim Han
Nick Morgan

Contractors
Former

Game development

Markus Arvidsson
Magnus Bentling
Oskar Carlbaum
Miko Charbonneau
Linus Cumselius
Lily Ekman
Fredrik Henriksson
Martin Hesselborn
Sebastian Hindefelt
Irina Koulinitch
Joachim Larsson
Jon Maiga
Kevin Martinez
Kirill Mikhel
Marc Neander
Oscar Nilsson
Michael Novén
Jakob Pogulis
Anders Rosén
Tim Schutz
Stephen Scott
Emelie Sidesiö
Sina Tamanna
Clayton Vaught
Issac de la Vega
Dario Vodopivec
David Westen
Carl Westin
Stephen Whetstine (OneBlueBird)
David Zevallos

Artists

Elin Forsling
Jennifer Hammervald
Alexis Holmqvist
Brad Shuber

Software/system development

Michael Andersson
Jeff Blazier (Dextor)
Haley Eisenshadt
Joakim Ejenstam
Semih Energin
Christoffer Hammarström
Aaron Heysse
Adrian LaVallee
Karim Luccin
Luis Mex
Tom Miles
Patrick O'Leary
Jonathan Ortiz
Taylor Riviera
Dave Stevens
Lisa Strum
Robyn To
Campbell Tran

Content and community

Nova Barlow
Sara Lempiäinen

Realms development

Erik Bylund
Mats Henricson
Magnus Jäderberg
Alexander Johansson
Johnny Sjöö
Cullen Waters

Business development

Andrew Adamyk
Alex Andersson
Sofia Andersson
Darla Barrett
Matt Booty
Chris Casanova
Yesenia Cisneros
Jill Curran
Amelia Dale
Dejan Dimic
Warren Durrett
Johannes Fridd
Juan Gril
Jonny Hair
Kaya Hatcher
John Hendricks
Didac Hormiga
Erin Krell
Dennis Laviolette
Natalie Levinsson
Cherie Lutz
Austin Maestre
Vera Mirchev
Aubrey Norris
Maria Olekheyko
Sofia Orrheim
Meenoo Rami
Jason Rice
Emily Richardson (StinkyTiger)
Nick Severson
Eva Stefanac
Marie Stålkrantz
Adam Tratt
Chaime Truving
Ida Utterström
Cathy Wickersham
Justin Woods
Charlotte Wredesjö

Customer support

David Carlsson
Robin Cocks
Theodore Colbing
Henrik Davallius
Rabi Hadad
Angehlica Halling
Eliza Hearsum
Amelia Henriksson
Nicole Jansson
Carl Johnsson
Andrea Jörgensen (hideous)
Antonia Kousathana
Ana Martins
Robert Miskiewicz
Erik Nordberg
Rui Riberio
Fredrik Sandstrom
Henry Shi
Dante Stjernberg
Patrik Södergren
Robin Thunström
Annika Tripke-Lund
Kevin Vesterlund

Intellectual property enforcement

Matilda Åkerman
Sylvia Chen
Christi Davisson
Marcus Forss
Teresa Rodewald

Contractors
Soundtrack
Minecraft: The Story of Mojang
One
C418
December 23, 2012

Cliffside Hinson
Surface Pension
Independent
Danny Makes Chiptune
The First Million
Certitudes
Impostor Syndrome
Buildup Errors
For the Sake of Making Games
Preliminary Art Form
Lawyer Cage Fight
Lost Cousins
Total Drag
Drunken Carboni
The Weirdest Year of Your Life
Swarms
Diskdance
Pr Department
Faux Video Production
One Last Game
This Doesn't Week
Wooden Love
I Glove Thy Flob (feat. Disco)
Post Success Depression
Social Lego
Jayson Glove
Clumsiness and Innovation
No Pressure
One
Fifflas (feat. Nifflas)
Tsuki No Kobumi (feat. Laura Shigihara)
No Pressure (minusbaby 'By the Snow in Brooklyn' Mix)
Jayson Glove (Bud Melvin '2 players 1 piggy' Mix)
The First Million (Danimal Cannon 'MultiMillion' Mix)
Preliminary Art Form (Crashfaster 'Nether' Mix)
Minigames

Minecraft: Battle & Tumble
(Original Soundtrack)
Gareth Coker
December 21, 2016

Toys on a Tear (Shrunk)
Dance of the Blocks (Shrunk)
Master Builder (Shrunk)
Double Time (Tumble)
Nimbly Does It (Tumble)
Chop Chop (Tumble)
Agile Accelerando (Tumble)
Lickety Split (Tumble)
Time Is of the Essence (Tumble)
Swift Descent (Tumble)
Dashing on the Double (Tumble)
Pronto (Tumble)
Breakneck Boogie (Tumble)
Hastilude (Fantasy)
Crusaders (Fantasy)
Born to Arms (Fantasy)
8-Bits, Pieces & Chunks (City)
Beat Around the Block (City)
From District to District (City)
Precincts at Night (City)
Industrial Quarter (City)
Clockwork Crafter (Steampunk)
Magnificent Machines (Steampunk)
Steaming Superstructures (Steampunk)
Airship Adventurers (Steampunk)
Sunset Riders (Frontier)
The Outlaw (Frontier)
Desert Duel (Frontier)
Ghosts in the Tower (Halloween)
Warped World (Halloween)
Happy Halloween (Halloween)
Wondrous Workshop (Festive)
Crafter's Candy Canes (Festive)
Giftwrapped (Festive)

Minecraft: Glide Mini Game
(Original Soundtrack)
Gareth Coker
December 22, 2020

In the Flow (Map 4)
Flight of Fancy (Map 3)
Glide (Map 1)
Departures (Map 7)
Soothing Voyage (Map 2)
Tense Takeoff (Map 6)
Wonderful Wings (Map 5)
Shrunk Soaring (Shrunk 1)
Pacy Piloting (Shrunk 3)
Wicked Wings (Shrunk 2)
Velocity and Dynamism (Body 2)
Locomotion (Body 1)
Mobile Maneuvers (Body 3)
Progression and Passage (Canyon 2)
Canyon Clearance (Canyon 1)
Roaming Wanderer (Canyon 3)
Icaria (Icarus 2)
Wings of Daedalus (Icarus 1)
Aviation (Excalibur 2)
Excalibur Excursion (Excalibur 1)
Celtic Crossing (Celtic 1)
Tour of Tors (Celtic 2)
Yinglong (Chinese Mythology 1)
Pixiu (Chinese Mythology 2)
Tianma (Chinese Mythology 3)
Minecraft Mash-up Packs

Minecraft: Greek Mythology
(Original Soundtrack)
Gareth Coker
December 21, 2016

Seikilos' Epitaph (feat. Aeralie Brighton)
Demeter - God of Farming (Overworld)
Artemis - Goddess of the Wilderness (Nether)
Lelantos - God of Moving Unseen (Battle)
Hades and Persephone - Gods of the Underworld (Nether)
Apollo - God of Music and the Lyre (Overworld)
Zeus & Hera - King and Queen of the Gods (Overworld)
Ares - God of War (The End)
Poseidon - God of the Sea (Overworld)
Hermes - The Messenger God (Overworld)
Hephaestus - God of the Forge (Nether)
Homados - God of Battlenoise and Tumult (Battle)
Britomartis - Goddess of the Hunt (Battle)
Hestia - Goddess of the Hearth (Overworld)
Aphrodite - Goddess of Love (Overworld)

Minecraft: Chinese Mythology
(Original Soundtrack)
Gareth Coker
December 21, 2016

Xuanzang
Chang'an - Perpetual Peace (Overworld)
Jinshan Temple (Overworld)
Tianxi Mountains (Overworld)
Sun Wukong (Battle)
White Dragon Horse (Battle)
Hotan Ruins (Nether)
Maijishan Grotto (Nether)
Mountains of Infinite Longevity (Overworld)
Hanging Monastery (Overworld)
Zhu Baije (Battle)
Sha Wujing (Battle)
Terracotta Army (The End)
Tsaparang (Nether)
Kunlun Mountains (Overworld)
Mount Huaguo (Overworld)
Danxia Rainbow Mountains (Overworld)

Minecraft: Norse Mythology
(Original Soundtrack)
Gareth Coker
December 19, 2017

Asgard (Overworld)
Jotrunheim (Overworld)
Midgard (Overworld)
Aegir and Ran (Nether)
Vanaheim (Overworld)
Alfheim (Overworld)
Valhalla (Nether)
Svartalfheim (Overworld)
Muspelheim (Overworld)
Folkvangr (Overworld)
Hel (Nether)
Einherjar (The End)

Minecraft:
Egyptian Mythology Soundtrack
Gareth Coker
May 29, 2018

The Great Pyramids (Overworld)
Hathor (Overworld)
Hibis (Overworld)
Journey Through the Duat (Nether)
Shai (Interlude)
Alexandria (Overworld)
Heliopolis (Overworld)
Temple of Isis (Overworld)
Judges of the Dead (Nether)
Renenutet & Meshkenet (Interlude)
Abu Simbel (Overworld)
Memphis (Overworld)
Final Judgement (Nether)
Osiris (The End)
Minecraft Dungeons
Minecraft Dungeons
(Original Game Soundtrack)
Peter Hont, Johan Johnson, and Samuel Åberg
June 24, 2020

Opening Cinematic (Extended)
Finnbacka
Intertile
Halland
Dalarna
Stuga
m
0
O
Wanderlust
Subjugation
Squid Coast
Finally
What You Came For
Caravan
Creeper Woods
Skogsstuga
Spider Den
Graveyard
Crypt
Town Bell
Pumpkin Pastures
Mary
Haven
Beach House
Witches
Soggy Swamp
Soggier Cave
Cauldron
Rumblings
Redstone Mines
The Maze
Cacti Canyon
Fizz
Monstrous Machines
Fiery Forge Outside
Fiery Forge
Redstone Monstrosity
Gjermund's Lament
Desert Temple
Necromancer
Grand Throne
Highblock Halls
Make Haste
Obsidian Pinnacle
Cellar
The Arch-Illager
Arena1
Arena2
Enderman
Evoker
The Four Horsemen
Ending Cinematic (Extended)

Minecraft Dungeons: Jungle Awakens
(Original Game Soundtrack)
Peter Hont
June 24, 2020

Dingy Jungle
Fossil Canyon
The Ancient Tree
Jungle Hat
Lava Cave
Treasure Cave
Underground River
Panda Plateau
Panda Nests
Jungle Hut
Dank Cave
Hidden Rock Pool
Creeper Pit
Overgrown Temple
Flooded Temple
Spider Nest
Booby Trapped Tunnel
Steamy Chamber
Temple Tunnels
The Treasure Room

Minecraft Dungeons: Creeping Winter
(Original Game Soundtrack)
Peter Hont
November 5, 2020

Frozen Ship
Ice Caves
Igloos
Iron Mine
Frozen Fjord
Outpost
River Lock
Battlements
Bailey
Staff
Lone Fortress
Ice Dungeon
Dining Hall
Royal Quarters
Lost Settlement
Gloomy Cave
Ice Cabin
Light Cave
Shelter
Retlehs
Shrine
Look Out

Minecraft Dungeons: Howling Peaks
(Original Game Soundtrack)
Peter Hont
December 1, 2020

Howling
Ascension
High
Low
Cabin
Cave
Windswept Peaks
Misty Vista
Ravine Ruins
Summit
Towering
Tempest Golem
Scud
Fog
Gauntlet
Golem Workshop
Inside
Llama
Gale Sanctum
Outside
Rush
Skyroom
Stairs
Flurry
Garrison
Legion
Endless Rampart
Vanguard
Frontier
Squall
Stables
Workshop

Minecraft Dungeons: Flames of the Nether
(Original Game Soundtrack)
Peter Hont, Eugnosis, and Rostislav Trifonov
February 19, 2021

Aentra
Ashes
Torn Ascinder
Basalt Deltas
Kermetic
Crimson Forest
Soulsand Valley
Metaluna
Warped Forest
Ghast
Ancient
Untold
Captivity
Invocation
Ground Floor
Roof
Borgen
Nether Fortress
Humus-Sifting
Steppe
Routers
Nether Wastes
Menta Menardi
Spider Cave
Camp Cartography

Minecraft Dungeons: Hidden Depths
(Original Game Soundtrack)
Peter Hont, Grant Kirkhope, and Rostislav Trifonov
May 25, 2021

Rest in Reefs
Coral Rise
O1
The Bilge
Nematocyst
Hydrothermal Vent
Twilight Cavern
Cnidoblast
What Gazes Back
The Abyssal Monument
O2
Dry Dry Dungeon
Pit Fight
Pufferfish Panic
Swashes
Pyramid Point
Ancient Guardian
Radiant Ravine
O3
Sunken Megalith
Truched
Lava Ledger
Molten Monument
Lava Ledger (Alternate)
Klyka
Tropical Slime Scramble
Primal Oil Sect
Raid Captain

Minecraft Dungeons: Echoing Void
(Original Game Soundtrack)
Peter Hont and Rostislav Trifonov
July 25, 2021

To.
The Stronghold
Drawn
Vault
Closer
The.
End Wilds
Void
City
Ethereal Blocks
Tower
Ship
Nothingness
Obsidian Cavern
End.
Broken Citadel
Apart
Astray Archipelago
Obsidian Gate Tower
Mountainside Cavern
Shattered
Tent
End Shrine
Broken Heart of Ender
To the Beginning
Mojam

Minecraft Dungeons: Ultimate Additions
(Original Game Soundtrack)
Peter Hont, Johan Johnson, and Samuel Åberg
October 20, 2021

Rune Room
Brunn
Spoopy
Chills
Wet Feet
Roaming
Mooshroom Island
Guldrum