Minecraft Interactive Experience
Play Sound
2.1.5963/2.1.5964/2.1.5965
Program
Release date

July 23, 2019

Development versions
2.1.5964 (Windows), 2.1.5963 (macOS), or 2.1.5965 (Linux) was a major launcher version released on July 23, 2019, which made changes and fixed bugs.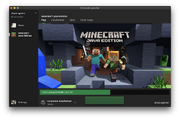 Changes
[
]
Added support for dark mode on macOS.
The Help screen now has a link to the Minecraft Launcher Feedback site.
Updated log window with new styling.
The arrow on drop down now dims and goes up a little bit when the drop down is not being hovered on.
Log more information about how the Launcher starts the game.
Removed weird pixels from login background image.
Various small styling improvements.
Updated translations.
The download progress bar is now much bigger; it is also now located above the Play button whereas in older versions, it is located at the bottom of the screen, beneath the Settings button.
Another small progress bar now appears below the Minecraft: Java Edition selection on the side menu while downloading game files and switching to the "News" tab on the left side.
Fixes
[
]
Fixed a bug that caused the game to start with the wrong arguments on some systems.
Fixed a bug that caused the game to start with the wrong directory setting when running with a custom directory.
Fixed a bug where the --workDir argument didn't work on certain systems.
Fixed a bug that meant the log files were missing information on macOS.
Fixed an error where the system language was not properly used by the Launcher.
Fixed a bug causing the Launcher Log window to use up performance when open.
Fixed a bug causing error messages while logging in to immediately disappear.
Fixed a bug in how version file fields for downloads and logging are treated for versions which inherit other versions.
Fixed the downloads field of versions not being treated as optional.
Fixed empty lines sometimes appearing in the launcher log file.
Fixed the drop down arrow in the installation selection sometimes covering up the text.
Fixed an issue where the multiple game instance warning did not show for profiles that had previously changed folders.
Fixed switch account screen not being scrollable with many accounts added.
MCL-8389 – Log output not auto-scrolling.
MCL-11117 – View crash report button does nothing.
MCL-11067 – "<language> is x% translated!" popup is never translated.
MCL-10230 – Erases all launch settings after computer hard-locks.
MCL-6544 – Launcher opens up on nonexistent monitor.
MCL-6629 – Launcher floated out of desktop boundaries when taskbar is at the top.