Minecraft Interactive Experience
Play Sound
Jonatan Pöljö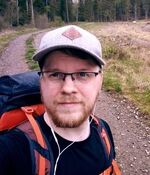 | | |
| --- | --- |
| Real name | Jonatan Pöljö |
| Date of birth | February 5 |
| Occupation | 3D artist |
| Nationality | Swedish |
| Website | |
| Known for | Creating the Eldpack |
| Reddit name | |
| Twitter name | |
| Minecraft name | |
Jonatan 'eldrone' Pöljö is a former 3D artist at Mojang, who previously assisted with the development of 0x10c until its indefinite shelving. Prior to joining Mojang on September 28, 2012, Pöljö worked on a number of major titles for AAA developers, including Capcom Entertainment, Inc.
In addition to his game development, Pöljö was already recognized by the Minecraft community for his custom texture pack, the Eldpack.
He announced on December 15, 2016 that he would be leaving the company at the end of the year,[1] and handed in his badge on December 29.[2]
Games
[
]
Pixudoku
Terminator Salvation
Bionic Commando
Lead and Gold
Nuclear Dawn
Bionic Commando Rearmed 2
Elderlands
0x10c (Cancelled)
Minecraft
Crea
Dark Matter
Wanted: Weapons of Fate
Hammerwatch
Hammerwatch Heroes
Dransik
Gallery
[
]
References
[
]
↑ "Announcement: After 4 long years this will be my last one at Mojang. I'll be leaving at the end of the year to become an indie dev! (1/4)" – @eldrone on Twitter, December 15, 2016
"First I'll be helping out my friend at @siegegames. I'll also be making that game I've been promising forever that I'd get back to. (2/4)" – @eldrone on Twitter, December 15, 2016
"Sometimes you have to trade job security for creative freedom. I'm going to miss everyone so much! (3/4)" – @eldrone on Twitter, December 15, 2016
"This also means I won't be seeing you all at GDC next year. Sorry! :( (4/4)" – @eldrone on Twitter, December 15, 2016
↑ "Handing in my badge!" – @eldrone on Twitter, December 29, 2016