Minecraft Interactive Experience
Play Sound
This page describes content that exists only in outdated versions of Minecraft.
This feature used to be in the game but has since been removed.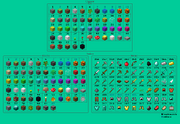 These values apply to blocks and items in Minecraft Indev version 20100223. Since versions since this version have drastically increased the number of blocks and items, and removed or re-used IDs, it has its own list. Items with IDs in light blue cannot be legitimately obtained in the player's inventory in the game; they can only be obtained by inventory editing.
Block IDs
[
]
Item IDs
[
]
Versions
Development
Technical
Multiplayer
Game customization