Minecraft Interactive Experience
Play Sound
Java Edition Multiplayer Test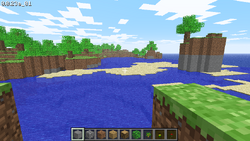 Multiplayer Test refers to 23 versions of Classic released between May 31 and July 11, 2009. As the name suggests, these versions were released mainly to implement and develop multiplayer.
Additions
[
]
Players' names show above their heads.
List logged-in players by pressing Tab ↹.
Added custom skins.
Players can chat to other players on the server.
Accessed by pressing B.
Hotbar can show up to 9 blocks.
Added multiple .ogg sound files for breaking blocks.
Gallery
[
]