Minecraft Infdev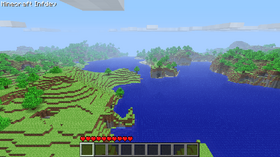 Edition
Release date

June 17, 2010

Downloads
al_version

1.13
A version of Minecraft Infdev was released on June 17, 2010.[note 1]
Changes
[
]
Blocks
[
]
Liquid flow mechanics now work better.[

verify

]
World generation
[
]
Bedrock added at the bottom 5 layers of the world (Besides the bottom-most, where the infinite lava sea still generates)[

verify

]
Coastlines are now more gradual, making oceans generally smaller.
Bugs
[
]
Pressing F5 results in water particles surrounding the player.
Gallery
[
]
Notes
[
]
↑

The .jar file has a compilation time of June 17, 2010, 14:13 UTC+2.