Minecraft Interactive Experience
Play Sound
Minecraft Infdev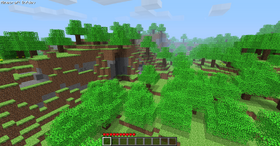 Edition
Release date

June 16, 2010

Downloads
al_version

Unspecified
A version of Minecraft Infdev was released on June 16, 2010, at 18:08 UTC.[1]
Changes
[
]
General
[
]
Blocks
Liquid flow mechanics now work better.
Lava now only spreads 4 blocks instead of 8
Leaves are now affected by the fancy/fast option.
Physics
Water now has more of a triangular prism shape rather than layers of flat blocks.
World generation
[
]
Now generates at the bottom 5 layers of the world (Besides the bottom-most, where the infinite lava sea still generates)
Re-implemented caves.
Regional caves.

Some areas have more caves than others now.
General
Coastlines are now more gradual, making oceans generally smaller.
Now generate naturally again.
Now generate naturally again.
Fixes
[
]
1 bug fixed
The sides of the blocks no longer have a flowing water texture when viewed underwater.
Gallery
[
]
References
[
]