Minecraft Interactive Experience
Play Sound
Minecraft Infdev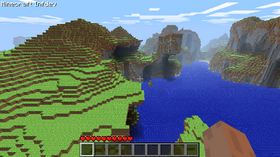 Edition
Release date

April 20, 2010

Downloads
al_version

1.125
A version of Minecraft Infdev was released on April 20, 2010.[1]
Changes
[
]
The level generator has been updated.

It is now much faster.
The terrain seems to be much less mountainous. Instead, hills generate very often.

Mobs now spawn less often.
The world automatically saves less often.
Mob pathfinding and behavior changed.
Changed world save format
Fixes
[
]
The mob pathfinding no longer leads them off big drops in negative coordinates.[

verify

]
Hostile mobs no longer spawn in bright areas.
References
[
]