Minecraft Interactive Experience
Play Sound
Minecraft Infdev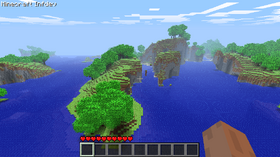 Edition
Release date

April 13, 2010

Downloads
al_version

1.122
A version of Minecraft Infdev was released on April 13, 2010.[1]
Additions
[
]
Changes
[
]
Leaves no longer decay.
Saplings that were planted in Infdev 20100327 or 20100330 will now grow into Big Trees.
Fixes
[
]
Blocks can no longer be placed in the same space as the player.
Placing blocks would sometimes cause two blocks to be placed, this has been fixed.
Lighting code has been fixed. Light level in some areas used be too dark, unless block updated. This fix only applies to newly generated chunks.
Dying in-game now doesn't leave the body, which doesn't leave until the player relogs into the world.
Pressing the respawn button multiple times now doesn't spawn multiple players which can't be controlled.
Bugs
[
]
Gallery
[
]
References
[
]