Minecraft Interactive Experience
Play Sound
Minecraft Infdev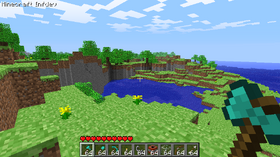 Edition
Release date

March 21, 2010

Downloads
al_version

1.114
A version of Minecraft Infdev was released on March 21, 2010.
Additions
[
]
Duplicate login detection added, however it causes problems. (See Bugs for info)
Changes
[
]
Players can now play the game even if they don't require proxy or modifications. However, if the player wants to hear sounds, the proxy should have been required instead.
Bugs
[
]
When playing the game, a screen will sometimes randomly pop up saying, "Session conflict! Did you log in from another computer?" It is unknown why this bug occurs.
Gallery
[
]