Minecraft Interactive Experience
Play Sound
Minecraft Indev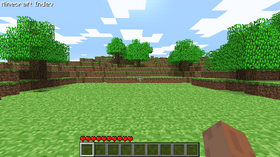 Edition
Release date

February 19, 2010

Downloads
al_version

1.106
A version of Minecraft Indev was released on February 19, 2010.[1]
Additions
[
]
Blocks
[
]
Used to smelt blocks and items.
Replaces the old smelting system.
Drops a burning furnace when broken while smelting.
Items
[
]
New food item.
Restores 8 health.
General
[
]
Added new splashes:

"Loved by millions!"
"Ultimate edition!"
"Freaky!"
"You've got a brand new key!"
"Water proof!"
"Uninflammable!"
"Whoa, dude!"
"All inclusive!"
"Tell your friends!"
"NP is not in P!"
"Notch <3 Ez!"
"Music by C418!"
Crafting
Added two recipes for a total of 65.
Changes
[
]
Blocks
Lava can no longer smelt items.
Stone type blocks now require a pickaxe to drop an item.[2]
Items
Get destroyed by fire and lava.
No longer catch fire.
Mobs
Smelting
All smelting recipes produce 1 output item.
Removed coal ore to coal smelting recipe.
Removed gravel to glass smelting recipe.
References
[
]