Minecraft Indev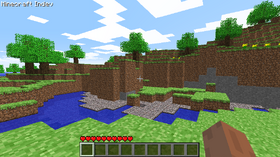 Edition
Release date

February 18, 2010

Downloads
al_version

1.105
A version of Minecraft Indev was released on February 18, 2010.[1]
Additions
[
]
Gameplay
[
]
Leaf Decay
Leaves don't decay if they are on top of a solid block or if there is a log in a 5x5x2 box. With the leaf in the top center of the box.

A log does not have to touch the leaf in order to protect it.

If those conditions are not met then the leaf decays.
General
[
]
Added new splashes:

"Bringing home the bacon!"
"Indie!"
"GOTY!"
"Ceci n'est pas une title screen!"
"Euclidian!"
"Now in 3D!"
"Inspirational!"
"Herregud!"
"Complex cellular automata!"
"Yes, sir!"
"Played by cowboys!"
"OpenGL 1.1!"
"Thousands of colors!"
"Try it!"
"Age of Wonders is better!"
"Try the mushroom stew!"
"Sensational!"
"Hot tamale, hot hot tamale!"
"Play him off, keyboard cat!"
"Guaranteed!"
"Macroscopic!",
"Bring it on!"
"Random splash!"
"Call your mother!"
"Monster infighting!"
Changes
[
]
Blocks
[
]
Still water is no longer lighter than flowing water.
Due to invincibility frames, Lava deals 1 damage per hit instead of 10 since the player takes damage from being on fire instead of the lava.
Items
[
]
Now has durability based on the material.
Is now fully functional.
Now bounce off the player in Peaceful mode instead of dealing ghost damage.
Mobs
[
]
All
If an entity is missing its Health NBT tag, now they set it to 10 health points by default.
Players' health saves now. Reloading a save no longer makes the player have full health again.
References
[
]