Minecraft Interactive Experience
Play Sound
Minecraft Indev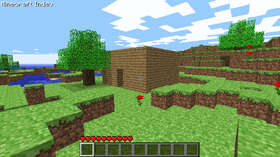 Edition
Release date

February 13, 2010

Downloads
al_version

1.102
A version of Minecraft Indev was released on February 13, 2010,[1] at 22:58 UTC.
Changes
[
]
Mobs
[
]
Now don't attack the player in daylight unless provoked.
Eyes now glow.
World generation
[
]
Now made of wooden planks and stone.
General
[
]
Allocated memory and free memory are only displayed if Show FPS is set to on.

The memory displayer is now formatted with the §7 code (light gray).
Fixes
[
]
From Indev 20100207-2
Slabs no longer cause lighting issues.
From Indev 20100211
Hell worlds no longer start off fully bright before getting darkened.
References
[
]