Minecraft Interactive Experience
Play Sound
Minecraft Indev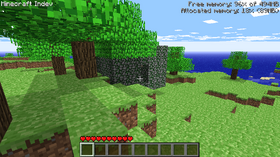 Edition
Release date

February 12, 2010

Downloads
al_version

1.100
1.101
A version of Minecraft Indev was released on February 12, 2010.
Additions
[
]
General
[
]
Added "Free memory" and "Allocated memory" information to the top right corner.

Displays with the §8 (gray) color code instead of the usual §f (white).

The crosshair now turns the opposite color of what it is covering.
Changes
[
]
General
[
]
Armor no longer displays on the player.
Skins other than Notch's are now displayed, although without a skin proxy, the player appears completely black.
Fixes
[
]
This version may have been released to track down a bug.[1]
Gallery
[
]
References
[
]