Minecraft Interactive Experience
Play Sound
Minecraft Indev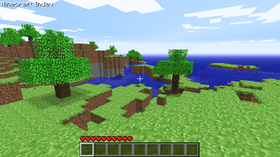 Edition
Release date

February 7, 2010

Downloads
al_version

Unknown
A version of Minecraft Indev was released on February 7, 2010.[1]
Changes
[
]
General
[
]
Glass is opaque to light coming through it.

Rain will no longer go through glass.

Non-solid blocks get destroyed by water, although breaking them in this way will cause nothing to drop.
Switched sound system to use OpenAL.
Non-full blocks when placed on farmland now turn it to dirt.
Gallery
[
]
References
[
]