0.31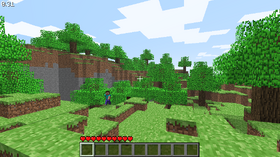 Edition
Release date

February 1, 2010

Downloads
al_version

Unknown
A version of Indev 0.31 was released on February 1, 2010, at 00:25 UTC.
Changes
[
]
The .jar file size has been changed (779K instead of 778K) because of new changes about some .class files in the "net" folder.
Blocks
[
]
1-3 are obtained by smelting sand or gravel (on the surface of lava).
Can now be crafted using 9 string on a crafting table (1 in each box).
Items
[
]
Now bounce on the surface of lava a few times before being destroyed by it.