This version is currently missing.
While this version is known to exist, it is
missing from the launcher
and has not been archived elsewhere, meaning that it is currently
lost
.
If you believe you have a copy of this version, please post on
the talk page
.
0.31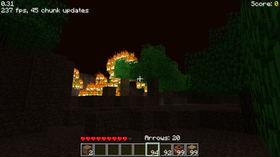 Edition
Release date

January 9, 2010

Downloads

Client not archived
No corresponding server

al_version

Unknown
A version of Indev 0.31 was released on January 9, 2010.[1]
Additions
[
]
Blocks
[
]
Can burn certain types of blocks.
99 are given to the player in the sixth hotbar slot.[2]
Does not render in the hotbar due to it being an animated texture.
World Generation
[
]
Inland type[3]
Replaced the original type.
Is like the original type, but has grass blocks instead of water around the map.
Changes
[
]
Blocks
[
]
World Generation
[
]
Hell theme
General
[
]
There are now 16 light levels, instead of 9.
Now reaches further.
The player now starts with 99 Spring Green Cloth, 99 Glass and 99 Wooden Planks in their hotbar, in addition to the already existing items.
Gallery
[
]
References
[
]