Minecraft Interactive Experience
Play Sound
For different versions of 0.31, see
0.31
.
Indev 0.31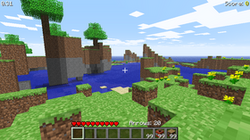 Starting version
Latest version
Paid

Yes (€5.00) when originally released
No, if played through the launcher
Indev 0.31 refers to 26 different versions of Indev released between December 23, 2009, and February 5, 2010.
Additions
[
]
General
[
]
General
Options
Isometric level rendering screenshot option.
Fullscreen mode accessible via F11.
Ability to drop the whole stack of items instead of one at a time.
Right clicking deposits a single item from a hovering stack.
The player now needs a pickaxe to mine stone.
Particles
Show when harvesting blocks and from fire and lava as well as from torches.
Sounds
Blocks
[
]
Items
[
]
Mobs
[
]
Non-mob entities
[
]
Functionless non-block items.
Items can be dropped on the ground.

Can then be picked back up.
World generation
[
]
Level options

Level type (island, floating, flat, original)
Level shape (square, long, deep)
Level size (small, normal, huge)
Level theme (normal, hell)
Liquid spawner.

Fluids can spawn above sea level and on floating islands.
Changes
[
]
General
[
]
Explosions lose power when going through stronger materials.
Blocks
[
]
Leaves now produce shadows.
Grass can now grow in slightly lit areas.
Lava sets fire to flammable materials.
Water doesn't move on surface it's on.

Won't spread out over unfilled water surfaces, if it has an empty space next to it.
Will evaporate (2⁄3 probability) or copy (1⁄3).
Mobs
[
]
Mobs now avoid taking damage from cliffs, fire, etc.
Passive mobs now only spawn in bright areas.
Hostile mobs now only spawn in dark areas.
Non-mob entities
[
]
All items and mobs can catch fire.
World generation
[
]