Java Edition Early Classic
Java Edition Early Classic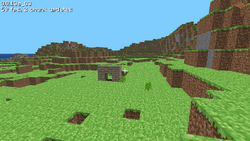 Starting version

0.0.2a (May 16, 2009)

Latest version

0.0.14a_08 (May 28, 2009)

Paid

?
This article's name is unofficial.
An official name is yet to be given to the subject matter and may change at any time.

Early Classic refers to several versions of Classic released from May 16 to May 28, 2009, that succeeded pre-Classic and preceded Multiplayer Test. Creative singleplayer was the only mode available at this time and there were only a limited amount of blocks available in-game.
Additions
[
edit
]
Blocks
World generation
An infinite ocean surrounds the map.
"Huge" level size.
Caves
Building
Right-click switches between placing and removing blocks.
GUI
In-game version number at the top left of the screen.

Includes FPS (frames per second) and chunk updates.