Minecraft Combat Test 8c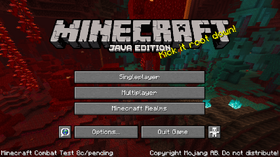 Combat Test 8c is the ninth experimental version of a future combat revision which changes the mechanics of shields.[1] Although it is a development version for a future release, this combat experiment is a fork of 1.16.2. This version was released only on Reddit, so it does not appear in the launcher or in any Minecraft.net blog post.
Changes
[
]
Gameplay
[
]
Fixed knockback calculations for shields.
Disabled crouch-shielding while jumping.
Shields with banners are now much stronger than normal shields (10 absorption instead of 5, increased knockback resistance).

This is just a quick way of testing different types of shields without adding new items, and is not going to actually be implemented.
Video
[
]
Video made by slicedlime:
Trivia
[
]
Combat Test 8c has the same protocol version as Combat Test 8b, which means these versions are cross-compatible with each other.

This is a rare time 2 development versions have had the same protocol version excluding joke versions. The last one was on September 15, 2017, with 1.12.2-pre1 and 1.12.2-pre2.[

verify

]
Notes
[
]
References
[
]