Java Edition Combat Test 7b
Minecraft Combat Test 7b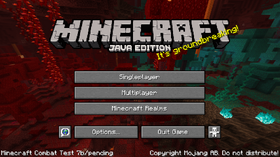 Combat Test 7b was a development version for Combat Test 7c released on August 13, 2020, for private testing. This combat experiment is a fork of 1.16.2.
Changes
[
edit
]
Shields now give 50% knockback resistance when active.
Upwards knockback has been decreased slightly.
Base reach has been reverted to 2.5.
Fixed a bug which made knockback resistance sometimes block 100% of knockback.
Fixed a bug which allowed spectators to attack with sweeping weapons.
Combat Test 7b has the same data version as 21w11a even though these versions should not be compatible with each other.