Minecraft Interactive Experience
Play Sound

This version is currently missing.
While this version is known to exist, it is
missing from the launcher
and has not been archived elsewhere, meaning that it is currently
lost
.
If you believe you have a copy of this version, please post on
the talk page
.
0.28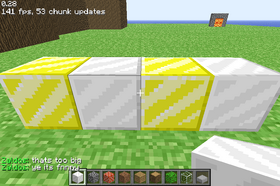 0.28 was a version of Java Edition Classic released on October 27, 2009.[1] (Note that most screenshots show a texture pack enabled.)
Additions
[
]
General
[
]
Re-added Creative mode.
Gamemodes are now changed via a line in Minecraft.class.
Mobs
[
]
Drop 1–3 cloth when hit.
Drop 0–2 mushrooms when killed.
Reward the player with 10 points when killed.
Are only available in Survival mode, which is disabled in this version.
Blocks
[
]
Changes
[
]
Blocks
[
]
Water and lava now display in the hotbar.
Changed the texture of TNT.
General
[
]
Altered the level saving/loading code.
Added Ores, Stone Slabs, Iron and Gold Blocks, Bricks, Bookshelves, Moss Stone, and TNT to the creative inventory.
Re-added menu and death screen shading.
The rendering engine now supports two layers of transparency.[

verify

]
Multiplayer
Now works again
When the player stands near/inside another player, it pushes the player away slightly.

It is possible to walk through a player, but it feels slightly "solid".
Gameplay
[
]
General
Controls
Left-click removes a block.
Right-click adds a block.
The hotbar no longer saves when a new level is generated.
Pick-block now works, attack speed is no longer limited, and reach increased back to 5 blocks (Creative only).
Arrow counter is hidden in Creative mode.
Survival mode
Only available through modding the client.
Only sheep will spawn.

Other mobs can still exist and still function as normal.

TNT disappears upon detonation.
Blocks do not drop items (although sheep still do).
Fixes
[
]
Fixed exploit where someone logging in with an illegal name would cause players to disconnect.
From 0.24 SURVIVAL TEST
Looking at glass now makes glass textures directly behind it disappear once again.[

verify

]
From 0.26 SURVIVAL TEST
Slabs can be placed under slabs without them collapsing into a full block. (Still can't be placed on top though)
Top slab texture is no longer invisible if there is a block directly above.
Placing a block on a slab no longer causes it to become a double-slab.
From 0.27 SURVIVAL TEST
Water and lava no longer display parts of other textures.
Gallery
[
]
References
[
]