This version is currently missing.
While this version is known to exist, it is
missing from the launcher
and has not been archived elsewhere, meaning that it is currently
lost
.
If you believe you have a copy of this version, please post on
the talk page
.It is worth noting that numerous fake copies of this version exist, so please consider checking the dates of the files inside.
0.0.9a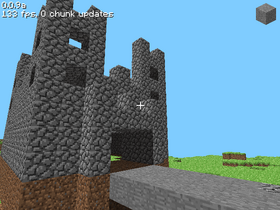 Edition
Release date

May 16, 2009

Downloads

Unavailable

al_version

0.9
0.0.9a[1][2][3] was a version of Classic released on May 16, 2009, at 19:15 UTC,[4][5] which added a new building mode and a counter for displaying frame rate and chunk updates, and changed the resolution.
Notch did not release versions 0.0.4a through 0.0.8a, assuming they existed to begin with.[note 1]
Additions
[
]
Gameplay
[
]
Building
Right click switches between placing and destroying modes.[7]

Selecting a block now shows a white overlay on all sides of the block.
General
[
]
Added a frame rate and chunk update counter

Located in the top left corner.
Changes
[
]
Blocks
[
]
Texture changed from .
General
[
]
Resolution
Changed the game's resolution from 1024×768 to 640×480.
Fixes
[
]
Fixed a graphical glitch with preview tiles in the newly added build mode.
Players can no longer build inside of themselves.
Bugs
[
]
This version had a bug where the screen turned white for one user. [9]
Gallery
[
]
Videos recorded in the original 0.0.9a:
Notes
[
]
References
[
]
↑ a b c "Minecraft (alpha)" – Tigsource Forums, May 17, 2009.
↑ "castle.png" (Archive) – jwaap, PhotoBucket; as mentioned in Tigsource and IRC logs ("(16:34:37) jw: http://i382.photobucket.com/albums/oo269/jwaap/castle.png")
↑ a b Archived video (non-functional)
↑ a b TigIRC logs: "(15:15:08) notch: new version out, you can't build in a space you're occupying, and I fixed a small graphical glitch with preview tiles" [...] "(16:11:54) jw: minecraft is awesome D;", "(16:11:57) jw: and in your browser" [...] "(16:15:06) jw: I am so building a castle" [...] "(16:34:37) jw: http://i382.photobucket.com/albums/oo269/jwaap/castle.png" (19:15 to 20:34 UTC)
↑ lwjgl IRC logs: "[13:15:36] <Notch_> i did a small update late last night, but nothing that should fix that, I think" (May 17, 11:15 UTC)
↑ TigIRC logs: "(14:05:16) notch: fartron: I uploaded 0.0.3 with caves. Does it load the new version properly if you reload the page?" (18:05 UTC)
↑ TigIRC logs: "(14:49:37) notch: I'm switching so that rmb = toggle edit mode now"
↑ TigIRC logs: "(04:18:12) SimonTheDigger: all I get is a white screen" [...] "(04:21:12) Super-Dot: I got the white screen too, on Windows" [...] "(04:21:55) notch: If you're on an Eee, that's probably why. I get the same thing on mine" (08:18 to 08:21 UTC, May 17)
↑ TigIRC logs: "(16:59:42) Super-Dot: Hmm, white screen"